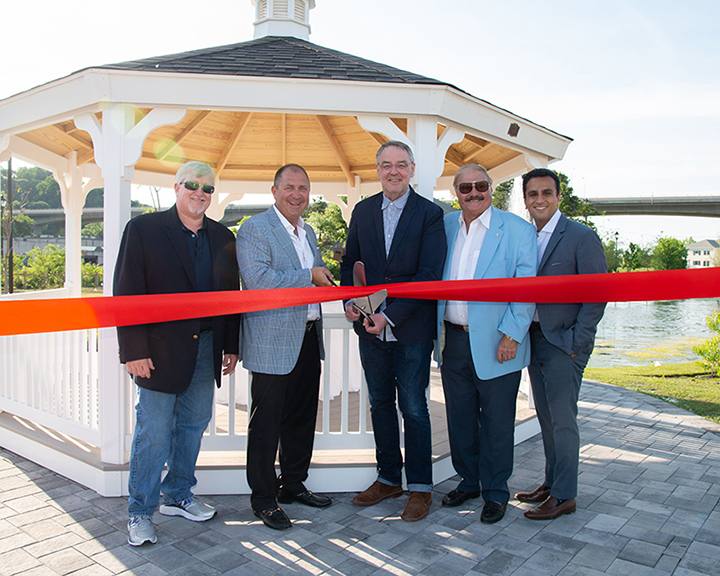 Roslyn, NY Roslyn Landing, a new condominium development, celebrated the completion of its waterfront promenade and outdoor activity area at a cocktail party held for residents, prospective residents, local government officials and friends
"An event or a party is a superb way to showcase a property," said Tara Poli, director of development marketing for Daniel Gale Sotheby's International Realty, which is the exclusive sales and marketing team for Roslyn Landing. "A party brings the community together with a shared sense of accomplishment and anticipation, and provides an excellent opportunity for the established and new residents to meet their neighbors. On the sales and marketing side, it's a terrific way for agents to preview the development with their customers and get a real feel for the property, its flow and amenities."
Roslyn Landing is a joint project of The Ranches, an established North Shore home builder of quality with 30 years of experience, financed by G4 Capital Partners, a private equity group founded in 2005.
In addition to enjoying a night outdoors and a preview of new Jaguar and Range Rover models, guests were able to step inside to tour a model home. Roslyn Landing brings a metropolitan style of modern living to the downtown area. The residences reflect Long Island's storied Gold Coast past with two and three-story townhomes, flat-over-flat condos and single-family homes designed in a classic architectural style that complement the historic character of the village.
Surrounded by 12 acres of landscaped grounds, Roslyn Landing creates an oasis for residents, convenient steps from the village's favorite shops, restaurants and its movie house.
Residents staying close to home can enjoy walking the waterfront promenade and a full menu of on-site amenities, a including a fitness center that features peloton bikes, a golf simulator, individual and group personal training and spa treatments from the Red Door Salon, to name a few. The Roslyn Landing clubhouse acts as the social center of the community, with concierge service, a lounge, dining area, catering kitchen, billiards and grill area. Children share a community playground, dogs have a run, and adults and families can use bikes, kayak and paddleboard.
"Roslyn Landing was conceived and built to provide a lifestyle that works for every stage of life," says Rob Antonucci, Managing Member, The Ranches. "It succeeds on every level for singles, young families, professionals and empty nesters."