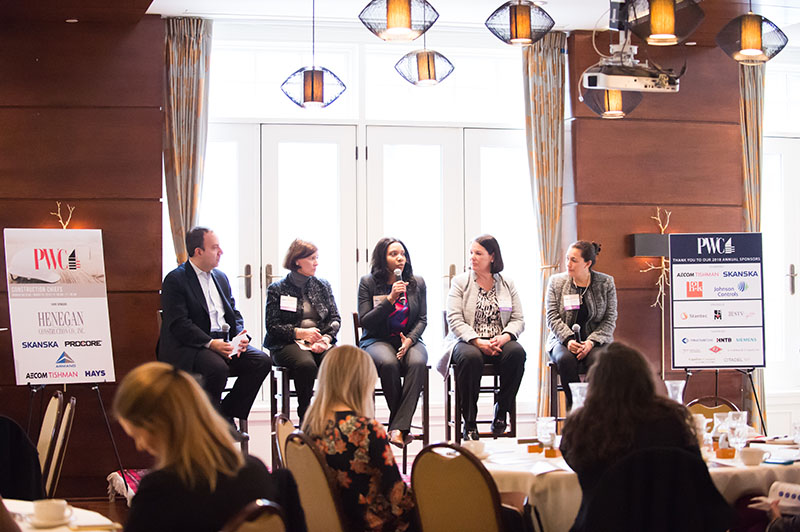 New York, NY Professional Women in Construction (PWC) hosted their Annual Construction Chiefs panel highlighting top women in the construction industry at the Manhattan Club on March 23rd. Breakfast and networking was followed by a presentation and panel discussion. The topics discussed mainly focused on trends in the industry, ranging from mandated goals to project delivery methods.
Deirdre McGrath, national account manager, Dodge Data & Analytics, presented on her company's special skills in construction forecasting trends. McGrath introduced a series of research studies Dodge is running that analyze why a project excels from the multiple project stakeholder perspectives. Dodge's market research team surveys hundreds to thousands of construction industry firms on multiple topics including, satisfaction with quality, cost, and schedule and then translates the results into research reports, sharing value and trends in the industry.
The program continued with a panel discussion moderated by Carlo Scissura, president and CEO of New York Building Company, with Jenny Freeman, senior vice president and director of healthcare, Hunter Roberts Construction Group, Maureen Henegan, chairman and CEO, Henegan Construction Co., Pat Hauserman, senior vice president, building business sector lead, AECOM Tishman, and Shamsell Abdill, project executive, Armand Corporation as panelists. The discussion covered the trends in the industry such as identifying and managing risks, the use of BIM-aided design working towards more collaborative projects, and the increase of Minority Women Business Enterprise (MWBE) involvement goals.
Panel discussion was followed by a Q&A from the audience. One attendee asked the panelists predictions for technology in the next five to ten years. The conclusions from the panelists were that productivity will sky rocket, all deliveries will be unmanned, and it will change the way we look at safety. When one attendee asked the panelist's advice to young people entering the industry the response was unanimous; training and building a network.
PWC's mission is to promote, support and advance women in the construction and related industries. With informative industry programming we are able to raise awareness and continue the discussion of positioning the construction industry to advance women.
The sponsors of the event were Henegan Construction, AECOM Tishman, Armand Construction, Hays, Procore, and Skanska.