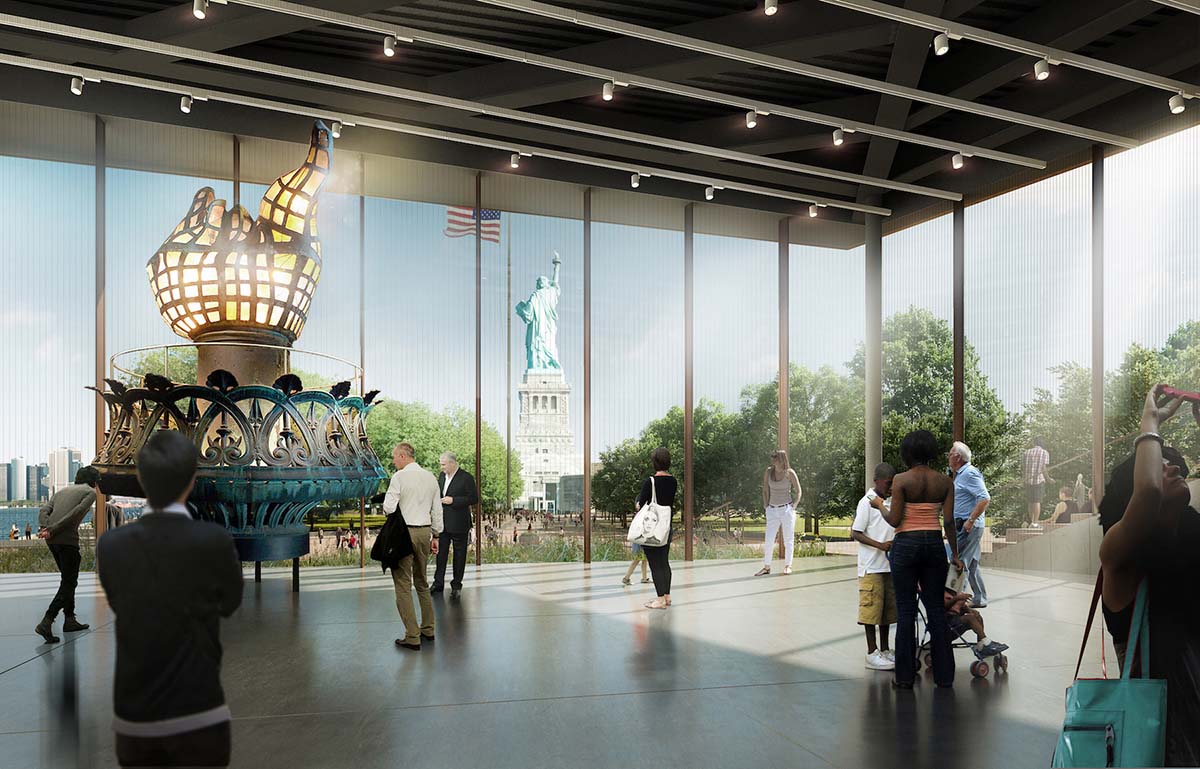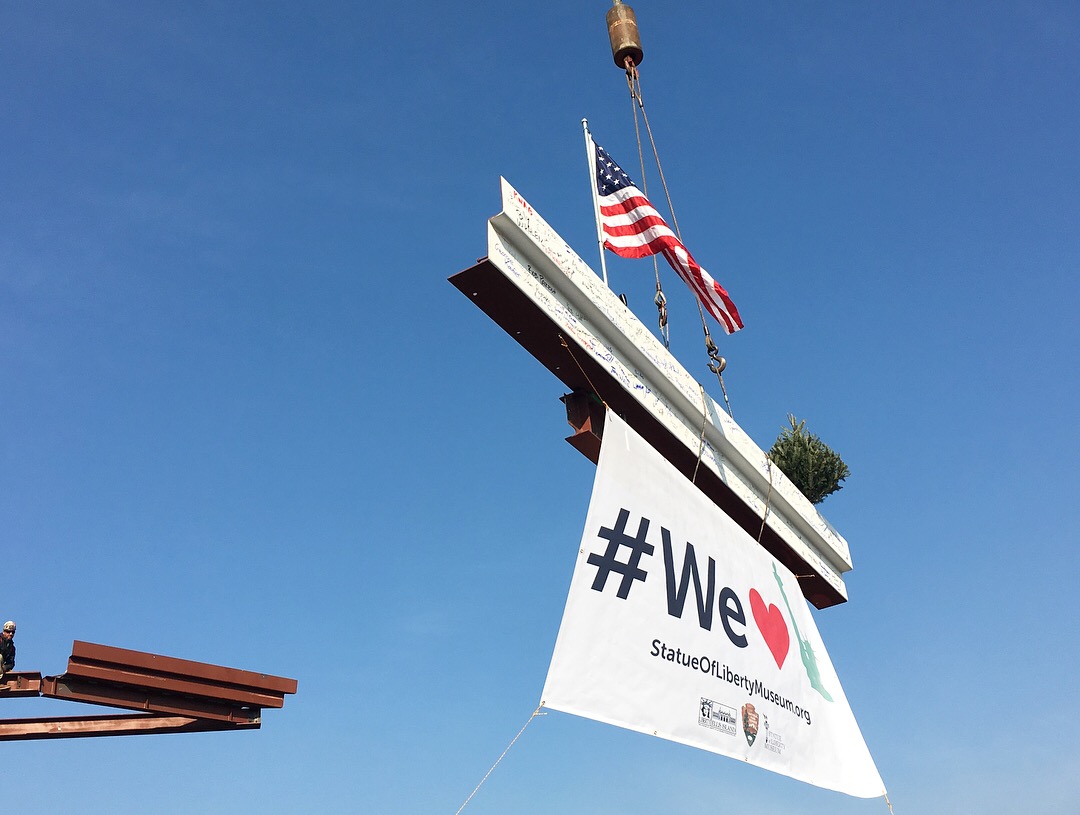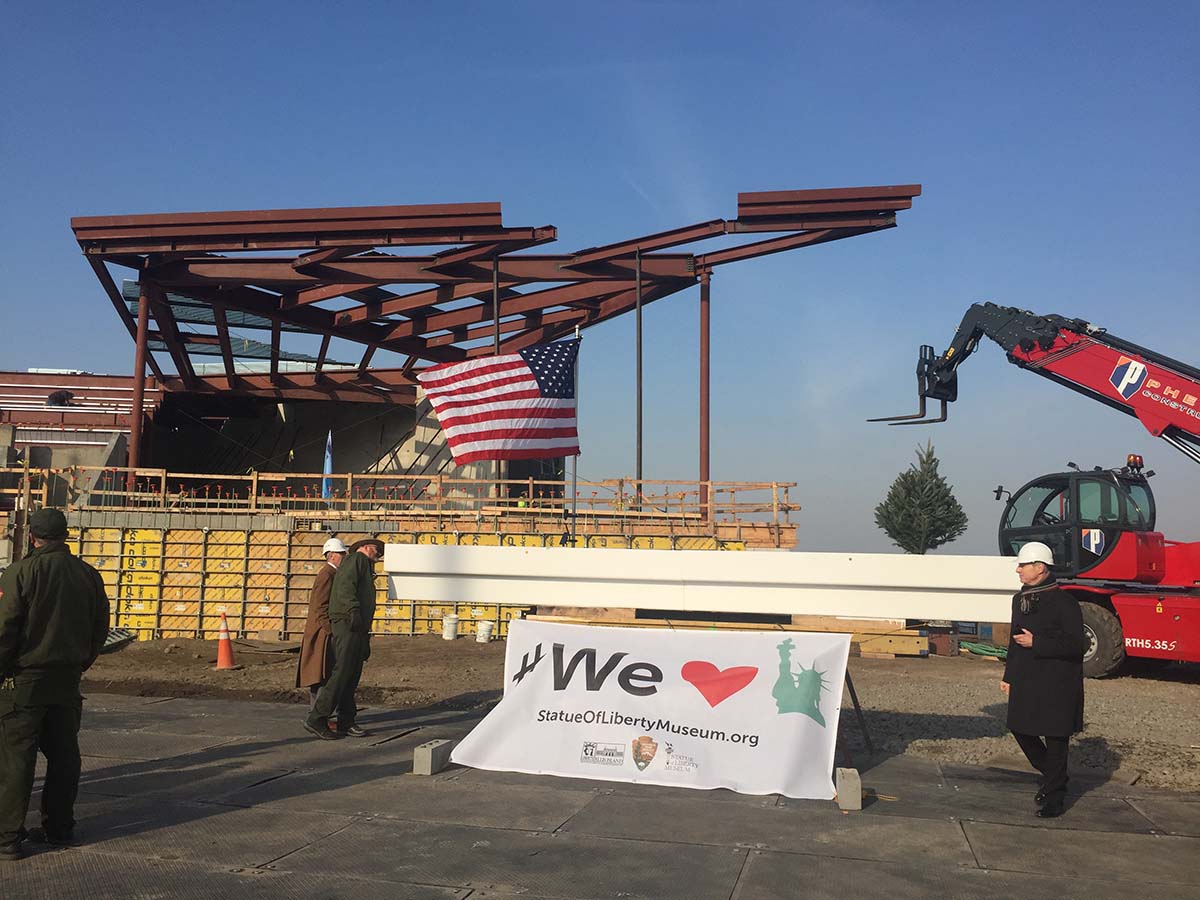 New York, NY The new Statue of Liberty Museum has officially topped out in New York City, steps away from the statue on Liberty Island. Slated to open in 2019, the museum is designed by FXCollaborative Architects, exhibit and experience designers ESI Design, and DeSimone Consulting Engineers.
The final beam was raised on December 4th at a special ceremony marking an exciting milestone for The Statue of Liberty-Ellis Island Foundation, Inc. and the National Park Service, who worked in partnership to develop the new cultural facility.
The current Statue of Liberty Museum is located inside the Statue of Liberty monument and is only accessible to a small fraction of the island's visitors due to the safety regulations put in place following September 11, 2001. The new 26,000 s/f building when completed will introduce 15,000 s/f of new exhibition space to better serve an estimated 4.4 million annual visitors.
Outdoor components of the project include a public plaza and a rooftop terrace offering panoramic views of the Manhattan skyline and Ellis Island.
As structural engineer, DeSimone worked closely with FXCollaborative, the National Park Service, and the Statue of Liberty – Ellis Island Foundation to accomplish the new facility. With a focus on sustainable design and minimal environmental impact, the structure is anticipated to achieve LEED Certification and utilizes avian-safe glass exteriors.
"We've been honored to work on this project and to advance this important cultural center," said Stephen DeSimone, president and CEO of DeSimone Consulting Engineers. "When completed, the development will serve as an extension for one of New York City's most historically significant structures with a focus on sustainability, public engagement, and modern design."
The global engineering firm has also designed numerous award-winning projects in New York, including P.S. 62, NYC's first net-zero energy school, the iconic Standard Hotel and New School University Center, as well as super-tall developments 220 Central Park South, 50 West, and 111 Murray.