Professional Profile: Whitney Odell 2018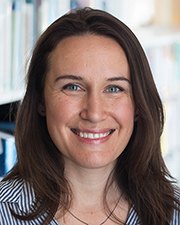 Whitney Odell
Name: Whitney Odell
Title: Associate
Company: FXCollaborative
Location: New York, NY
Birthplace: Bangkok, Thailand
Education: University of Virginia, M.Arch
First job outside of real estate: Working in a Chelsea art gallery.
First job in real estate or allied field: Intern at Rexrode Chirigos Architects, a boutique-sized firm specializing in art galleries and high-end residential.
What do you do now and what are you planning for the future? Since joining FXCollaborative, I've had the opportunity to work on commercial and educational interior projects ranging from 6,000-150,000 s/f. I love exploring innovative workplace design and figuring out how a space can support and inspire its inhabitants.
How do you unwind from a busy day? Hang out with my daughters (3 and 5 years old)
Favorite movie: Blade Runner
Last song you purchased/downloaded? Cardi B's album "Invasion of Privacy"
Rules to live by in business: Empathy goes a long way. In our profession I believe it makes you a better designer, better manager, and better "service provider" to be able to put yourself in others' shoes.
What is your dream job? Own and run a small, rustic hotel on a very distant beach