Professional Profile: Trystan Polsinelli 2019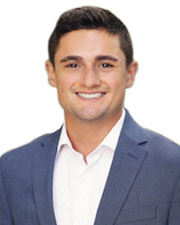 Trystan Polsinelli
Name: Trystan Polsinelli
Title: Licensed Real Estate Salesperson
Company: Compass Commercial
Location: New York, NY
Birthplace: Manhattan, NY
Education: Bachelor's degree in Marketing from the University of Tampa
First job: I interned for my mother, since I was 15, learning the basics of R.E.
First job in real estate or allied field: I was an accounting and finance recruiter for Insight Global where I learned to cold call, set meetings to grow the business, pitch our services to prospective clients, and applied quality customer service to everyone I spoke with.
What do you do now and what are you planning for the future? Currently, I cold call and canvas throughout the five boroughs to source potential new business, cultivate relationships, and expand my knowledge of the ever-changing world of real estate in New York. My plan for the future is to follow in my mother's footsteps and eventually close more deals than Adelaide's 1,400 plus deals.
How do you unwind from a busy day? Being an athlete all of my life, has disciplined me to be physical as much as possible. Exerting any extra energy I have at the end of the day at the gym, allows me to clear my head and regroup for the next day.
Favorite book or author: "Extreme Ownership" by Jocko Willink and Leif Babin
Favorite movie: "Dodgeball"
One word to describe your work environment: Inspiring
Rules to live by in business: The best revenge is success
What is your DREAM job? (something other than your current job) To become a professional soccer player. I've played the sport since I was two years old. It taught me so many life lessons that have helped me to push past obstacles and stay the course no matter how impossible it may seem. The best part of my dream job would be doing something that I love. I am extremely fortunate to have found a career path in commercial real estate that has sparked the type of passion soccer did for me in my childhood.