Professional Profile: Teddy Margules 2018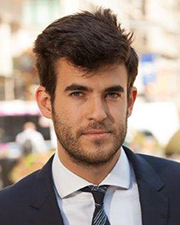 Teddy Margules
Name: Teddy Margules
Title: Acquisitions Associate
Company: Margules Properties
Location: 381 Park Ave. South, New York, NY
Birthplace: New York, NY
Education: University of Connecticut (UConn)
First job: Sold lemonade in Stuyvesant Square Park
First job in real estate or allied field: Rental agent for Rowdy Management
What do you do now and what are you planning for the future? I work as a property manager in Jersey City, Manhattan and in Miami Beach. I plan on leading Margules Properties one day and will continue to grow with the company.
How do you unwind from a busy day? Either by going to the gym or grabbing dinner with friends. I'm usually in bed by 10:30 each night so unwinding for me begins shortly after I eat dinner.
Favorite book or author: "Lord of the Flies"
Favorite movie: "Boyhood"
One word to describe your work environment: Fun!
Rules to live by in business: Always be closing.
If you could invite one person to dinner (living or dead, but not related to you) who would it be and where would you go? I would like to have dinner with Caesar and discuss how I can be named after a great food.