Professional Profile: Steven Peet, AIA 2018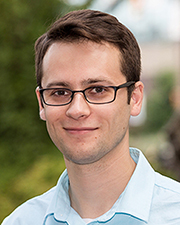 Steven Peet
Name: Steven Peet
Title: Project Architect
Company: SWBR
Location: Rochester, NY
Birthplace: Rochester, NY
Education: M. Arch., University at Buffalo
First job outside of real estate: Lifeguard
First job in real estate or allied field: Intern architect
What do you do now and what are you planning for the future? Currently I'm learning from many talented people while working on exciting projects, and I'd like to continue that with urban infill and rehab projects, and keep working with our great not-for-profit clients.
How do you unwind from a busy day in real estate? I play with my son, or find a project to do in the house.
Favorite book or author: I love Salinger
Favorite movie: The first Blade Runner
One word to describe your work environment: Challenging
Rules to live by in business: Always be honest and respectful.
If you could invite one person to dinner (living or dead) who would it be and where would you go? My grandpa T.
What is your dream job? Eccentric owner of a successful craft brewery. Maybe have a helicopter.