Professional Profile: Stacey Kleinberg 2017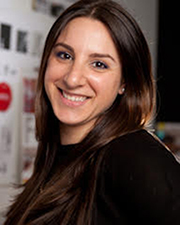 Stacey Kleinberg
Name: Stacey Kleinberg
Title: Senior Interior Designer/Studio Director
Company: MKDA
Location: New York, NY
Birthplace: Plainview, Long Island
Education: BFA in Studio Art with a Concentration in Graphic Design, Minor in Art History from SUNY Buffalo, Certificate from Parsons The New School.
First job outside of real estate: Marketing/Head of Interior Design at CDA
What do you do now and what are you planning for the future? I currently design commercial spaces, I am involved in all aspects of the design process with the client from concept through completion. I also manage the work flow of the design staff.
How do you unwind from a busy day? A movie and a nice glass of red.
Favorite movie: My Cousin Vinny
Last song you purchased/downloaded? "Despacito" by Justin Beiber
One word to describe your work environment: Fun
Rules to live by in business: Kill them with kindness
What is your dream job? I'm in my dream job.