Professional Profile: Scott Pavick 2018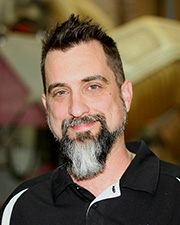 Scott Pavick
Name: Scott Pavick
Title: President
Company: Liberty Contracting of New York, LLC
Location: 805 Albin Ave., Lindenhurst, NY 11575
Birthplace: Dutchess County, NY
Education: Associates in Architecture @ SUNY Delhi, BA in Architecture @ NYIT
First job: First job ever was a dishwasher in an Italian restaurant
First job in real estate or allied field: My first real job related to the field was an architectural draftsman for Bohler Engineering in Valley Stream, NY. Moved on practicing architecture for a design build firm and that was where I fell in love with construction. Later moving on to construction management and then into the world of commercial general construction.
What do you do now and what are you planning for the future? Owner/ partner of Liberty Contracting of New York, LLC. Planning of creating a more diverse commercial construction company with hopes of opening an office of expansion.
How do you unwind from a busy day? Most of the time I don't. But when I get a chance I like to relax outside and listen to music, play the guitar, go fishing for sure and ride horses.
Favorite book or author: "Rise and Grind" by John Daymond
Favorite movie: "The Breakfast Club" and "Lonesome Dove"...classics
Last song/album that you purchased/downloaded? Wanted! The Outlaws (Waylon Jennings, Willie Nelson, Jessi Colter, Tompall Glaser)
One word to describe your work environment: Balance
Rules to live by in business: Be honest, always crave learning, surround yourself with good people, never give up on your goals even if you fail. Work hard and keep it simple.
If you could invite one person to dinner (living or dead, but not related to you) who would it be and where would you go? Singer Songwriter Jamey Johnson, where ever he wanted.
What is your dream job? Running a horse ranch somewhere out west.