Professional Profile: Ryan Sanzari 2017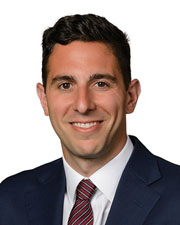 Ryan Sanzari
Name: Ryan Sanzari
Title: Chief Operating Officer
Company: Alfred Sanzari Enterprises
Location: Court Plaza, Hackensack, NJ
Birthplace: Hackensack, NJ
Education: Bachelor's degree in Political Science from Villanova University
First job outside of real estate: Pizza Delivery Boy in Ramsey, NJ.
First job in real estate or allied field: Construction laborer. During summer break, I'd pick up sheet metal and garbage, empty carts into the dumpster, and sweep floors on our job sites. The first "car" I ever drove was a bulldozer around the age of 11.
How do you unwind from a busy day? I walk my dog through Washington Square Park while listening to great music. There's a certain energy there that can't be matched in my opinion.
Favorite book or author: Michael Lewis
Favorite movie: While that's almost as difficult as determining my favorite food, I'll say "Outside Providence."
Last song you purchased/downloaded? "Fool In The Rain" by Led Zeppelin
One word to describe your work environment: Eventful
Rules to live by in business: Stay humble, listen and don't wait to speak. Don't take the moment for granted, and never lose sight of what is important in life. My father always told me that if I don't wake up every morning and look forward to going to work then I'm in the wrong business. I am so fortunate to love what I do and love coming to work every day.
What is your dream job? Professional musician. Since I was 8 years old I've played drums and guitar, and sang vocals. Every morning I'm up at 5:30am for a 45-minute session in my apartment. Playing music allows me to let go of all worries, concerns and plans, and love the moment.