Professional Profile: Paul McCormick 2017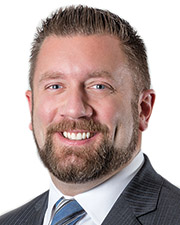 Paul McCormick - 2017
Name: Paul McCormick - 2017
Title: Senior Vice President of Investment Sales and Capital Services
Company: Ariel Property Advisors
Location: New York, NY
Birthplace: Massapequa, NY
Education: MBA, Finance; M.S., Criminal Justice; B.S., Criminal Justice; Minor, Spanish
First job: My first real job was as a waiter at the Olive Garden. I loved the fast-paced environment and the opportunity to work full-time while in school with a flexible night/weekend schedule. Only once did I spill a daquiri using a beverage tray - those small trays were tough to master! I became a pro with the larger trays as I gained experience.
First job in real estate or allied field: Originations, Homebridge Mortgage Bankers. Upon graduating from graduate school, I, to my parents chagrin, took a commission-only position in mortgage originations. I was fortunate to have success quickly and have been in the real estate field my whole career.
What do you do now and what are you planning for the future? I currently manage both the investment sales and capital services platforms at Ariel Property Advisors. We are currently in growth mode and looking for experienced producers to continue to establish our company as a great resource for the real estate market. In an ever-evolving NYC real estate landscape, I am excited for our future and the opportunities ahead. In regards to my own professional development, I would like to move into a more senior, C-Suite executive position that incorporates leading both Sales and Operations.
How do you unwind from a busy day? Two subway rides and a 40 minutes LIRR train ride home starts the unwinding perfectly. In all seriousness, I get home close to 8 p.m. every night and have just enough time to have something for dinner and squeeze in a night exercise routine. The last hour or so is spent catching up on Netflix or reading.
Favorite book or author: Vince Flynn is by far my favorite author. Unfortunately, he passed away a few years ago but his book series has been taken over and continued by Kyle Mills. His novels are political thrillers that appear to have intimate knowledge of the inner-workings of the CIA and political landscape of our country. From the first page, his work sucks you in and allows you to plow through hundreds of pages at a clip.
Favorite movie: Braveheart. This was a real tough question for me as I fancy myself a movie-buff but this has everything you can want in a movie: Beautiful scenery, love story, war, revenge, and the musical score is one of my favorites as well.
Last song/album that you purchased/downloaded? Zac Brown Band–I have seen them live five times and own all their music. For such a talented band, I am actually surprised by how "under the radar" they actually are. I know a ton of people who avoid country music with a passion but have yet to meet someone that has given ZBB a chance and didn't leave a fan.
One word to describe your work environment: Entrepreneurial
Rules to live by in business: Work hard. Stay loyal. Keep learning. Be accountable. Be honest. Be patient. Be ready. Lead by example.
If you could invite one person to dinner (living or dead, but not related to you) who would it be and where would you go? Walt Disney – Blue Hill at Stone Barns. I have always been fascinated by his vision and what he was able to accomplish. I would love to hear all the stories, both the successes as well as the failures, to not only learn how he accomplished creating such a place but how he harnessed such a magical feeling that has proven to stand the test of time. I remember going to Disney as a child and that magic still existed in a different form when I had recently visited this year.
What is your DREAM job? (something other than your current job) If I could do anything, it would be to come back as Billy Joel. Also- he would be in my top two or three to go to dinner with. Rocking the stage at MSG on a monthly basis is the icing on the cake but he has had a lifelong career and to be given the opportunity to experience such a life would be a dream come true. He was the reason I have played piano since the age of four and has a place in most of my memories growing up.