Professional Profile: Olivia Sonia Farquharson 2017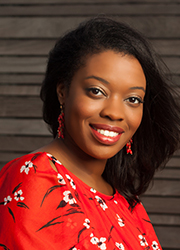 Olivia Farquharson - 2017
Name: Olivia Farquharson - 2017
Title: Senior Digital Marketing Manager
Company: Shen Milsom & Wilke
Location: New York City
Birthplace: Upstate New York
Education: BS from F.I.T., Advertising Marketing & Communications
First job outside of real estate: Web Editor for Interior Design Magazine
What do you do now and what are you planning for the future? I'm responsible for defining digital strategy, executing, analyzing and optimizing SM&W's online programs – working to drive business through this platform. I'm also the director of public relations and a member of the board of directors for the Society for Marketing Professionals Services-NY. My plan is to continue bridging mutually beneficial connections across the industry.  
How do you unwind from a busy day? Turn on light music, grab a notepad and pen and write.    
Favorite book or author: "Getting Past No: Negotiating in Difficult Situations" by William Ury
One word to describe your work environment: Collaborative
Rules to live by in business: "Our behavior today will be our history tomorrow, we have to make sure it is written well." - Michael Lee Chin of Portland Holdings. It's important to work hard, with integrity, commit with all your heart, and never lose your hunger for knowledge.
What is your dream job? Continue creating campaigns that balance aesthetic and financial goals that help firms engage, convert and retain clients.