Professional Profile: Nate Lowy 2019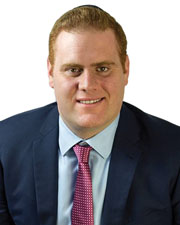 Nate Lowy - 2019
Name: Nate Lowy - 2019
Title: President/Founder
Company: Juniper Capital Group
Location: New York, NY
Birthplace: Los Angeles, CA
Education: Bachelor degree in Finance from Touro College
First job: In college, I worked as a weekend counselor for special needs children
First job in real estate or allied field: Eastern Union as a junior analyst
What do you do now and what are you planning for the future? I founded Juniper Capital Group, a boutique New York-based independent financial advisory firm in early 2016 that offers debt, equity, bridge, mezzanine and joint venture financing for all commercial real estate assets. I've closed deals totaling north of $500 million in property value and led the firm's growth to where we have financed a personal record of $200 million in property across 50 buildings, a 30% growth over 2017 which I am hoping to double in 2019.
If you could invite one person to dinner (living or dead, but not related to you) who would it be and where would you go? Israel's former Prime Minister Menachem Begin and just listen to him describe how he managed to form a country with so many barriers. Dinner can be at in the worst restaurant and I wouldn't care, his story would be so entertaining.
What is your DREAM job? (something other than your current job) Closing for the LA Dodgers. Unfortunately I can't hit 70 mph so, Kenley Jansen–your job is safe.