Professional Profile: Nadine Cino 2017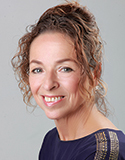 Nadine Cino
Name: Nadine Cino
Title: CEO & Co-Inventor
Company: Tyga Technologies, Inc.
Location: 54 West 40th St., Suite 1117, New York NY 10018
Birthplace: Brooklyn, NY
Education: FIT – apparel design
First job outside of real estate: Jeans designer for Sassoon
First job in real estate or allied field: Invented first product: TygaBox and brought to the facilities and real estate communities.
What do you do now and what are you planning for the future? Launching TygaTrax: Mobile tracking and security for any item | any time | anywhere on a completely handsfree | scanfree basis.
How do you unwind from a busy day? Cook a great meal and open up a fabulous bottle of vino!
Favorite book or author: Sarte
Favorite movie: Gandhi
Last song you purchased/downloaded? Happiness
One word to describe your work environment: Amazing!
Rules to live by in business: Be your authentic self and bring your compassion to the relationship.
What is your dream job? Exactly what I'm doing now – launching TygaTrax and helping companies track, securitize and "see" their individual movable assets in real-time such that they can improve utilization and reduce time wasted looking for "stuff," a cost of $600 billion annually to corporate America.