Professional Profile: Marian Campi-Conde, 2019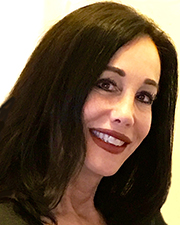 Marian Campi-Conde
Name: Marian Campi-Conde
Title: Real Estate Salesperson
Company: Coldwell Banker Commercial NRT
Location: Melville & Setauket, NY
Birthplace: Rumson, NJ
Education: BA: Psychology, Minors: Sociology, Business Marketing
First job: Product development, Knoll International, NYC
First job in real estate or allied field: Jaymont Properties, One Biscayne Tower, Miami, FL
What do you do now and what are you planning for the future? I advise owners, buyers and investors in the disposition and management of their commercial real estate. Market knowledge, skilled transactional analysis and consistent implementation of best practices, are the cornerstones of a successful real estate career. After that, it's all about hard work and determination. In the future, I want to develop my own real estate business.
How do you unwind from a busy day? Surfing, skiing and jumping horses.
Favorite book or author: Any one of Nill Bryson's books about our universe.
Favorite movie: "American Hustle"
Last song/album that you purchased/downloaded? Some crazy Jamaican Reggae
One word to describe your work environment: Stimulating
Rules to live by in business: Loyalty, first and foremost: "If you fight for your clients every day, put their needs before your own, and deliver more than you promise, you will never have to look for customers, (or friends)."
If you could invite one person to dinner (living or dead, but not related to you) who would it be and where would you go? Definitely Joe Torre, and we would go anywhere he wanted.
What is your dream job? Professional equestrian and spokesperson