Professional Profile: Louis Baugier 2018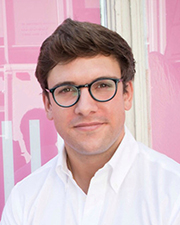 Louis Baugier - 2018
Name: Louis Baugier - 2018
Title: Founder and CEO
Company: Surecave, Inc.
Location: Brooklyn, NY
Birthplace: Mineola, NY
Education: BS Finance, BA French Literature, Tulane University
First job: Summer analyst, Pia Capital Management
First job in real estate or allied field: JPMorgan Chase, global real estate portfolio management
What do you do now and what are you planning for the future? I run a venture-backed real estate technology company in Brooklyn. I plan on creating phenomenal value for my shareholders, customers, and employees.
How do you unwind from a busy day? Bacon makes everything better!
Favorite book or author: Jean Paul Sartre
Favorite movie: "The Godfather: Part II"
Last song/album that you purchased/downloaded? "Is this it" by The Strokes
One word to describe your work environment: Lit!
Rules to live by in business: You scratch my back. I scratch yours.
If you could invite one person to dinner (living or dead, but not related to you) who would it be and where would you go? Rodney Dangerfield
What is your DREAM job? (something other than your current job) Real estate developer. I'll get there soon.