Professional Profile: Linda Scainetti 2017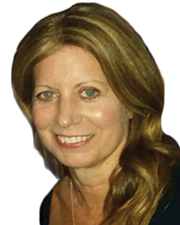 Linda Scainetti
Name: Linda Scainetti
Title: Owner – Certified Interior Designer
Company: Designworks LPS, LLC
Location: 150 Broadhollow Road, Suite 210, Melville, NY 11747
Birthplace: Garden City South, NY
Education: FIT – Interior Design
First job: JPS Inc. (my dad's company), drafting elevations for the Wyndham Apartments in Garden City, NY
First job in real estate or allied field: Mancini Duffy – 1 World Trade Center, New York City – interior designer
What do you do now and what are you planning for the future? I own an interior design firm in Melville and we design commercial interiors for businesses on Long Island and New York City. I would like to continually grow my business but would also like to buy, renovate and flip properties. I'm in the process of purchasing my first investment property and would like this to be the first of many.
How do you unwind from a busy day? I like to ride my bike at the Bethpage Bike Trail
Favorite book or author: "How to Win Friends and Influence People" by Dale Carnegie
Favorite movie: "Somethings Got to Give" with Jack Nicholson and Diane Keaton
Last song/album that you purchased/downloaded? Clint Black "Nothin but the Tailights"
One word to describe your work environment: Collaborative
Rules to live by in business: The customer is always right, always do what you promise and when you promise it. I'm very protective of my clients and make sure they get exactly what they pay for and more.
If you could invite one person to dinner (living or dead, but not related to you) who would it be and where would you go? Jesus – On a hilltop
What is your dream job? I honestly feel like I have my "dream job" because its creative and exciting and constantly changing with new customers and projects and new materials but if I had to choose something else it would be to travel the world and write about it.