Professional Profile: Lenny Lazzarino 2017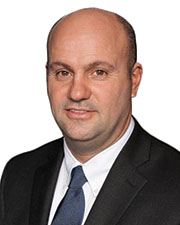 Lenny Lazzarino - 2017
Name: Lenny Lazzarino - 2017
Title: Governor, Young Men's/Women's Real Estate Association
Company: Senior VP of Leasing & Business Development, Edison Properties, LLC
Location: 520 8th Avenue, 19th Floor New York, NY
Birthplace: Islip, NY
Education: St. John's University, business major
First job outside of real estate: Worked in father's business as an account sales and customer service rep.
First job in real estate or allied field: Work in the mini storage division for my current employer.
What do you do now and what are you planning for the future? I oversee the sales division for our storage business, lead a business development team for Edison and in charge of all leasing responsibilities. In the future, I see myself owning more than I manage.
How do you unwind from a busy day in real estate? I reserve my evenings for family time. Dinner together, whenever possible. Night time is my time and it is usually watching a sporting event, playing hockey or smoking a cigar and sipping a scotch.
Favorite book or author: I am reading a lot more lately. I am digging "Shoe Dog."
Favorite movie: Too many to say one. Off the top of my head, "Dead man on Campus," "Old School," "A Few Good Men," "Gladiator," and the "Usual Suspects."
Last song you purchased/downloaded? Down" by Marian Hill
One word to describe your work environment: Fun
Rules to live by in business: Tell them what you know. Determine what you don't and never make up an answer you are not 100% sure is accurate.
If you could invite one person to dinner (living or dead, but not related to you) who would it be and where would you go? My grandfather. I was too young to remember him, but told he was a great person by many. We would stay home and eat my grandmother's cooking. Best meatball I have ever had. EVER!
What is your DREAM job? (something other than your current job) Retired billionaire.