Professional Profile: Lee Petrenka 2018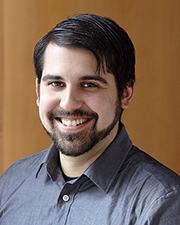 Lee Petrenka
Name: Lee Petrenka
Title: Consultant
Company: Shen Milsom & Wilke, LLC
Location: Princeton, NJ
Birthplace: Princeton, NJ
Education: Bachelor of Science in Music Technology
First job outside of real estate: Sharpening skates at a local mom and pop sporting goods store.
First job in real estate or allied field: Outside of freelance audio engineering, my position as an adjunct instructor for the Entertainment Technology department of a community college.
What do you do now and what are you planning for the future? Currently, I am an AV system design resource, supporting our Princeton and New York City offices. I hope to continue to grow within the organization.
How do you unwind from a busy day? Bass fishing and wood working
Favorite book or author: "The Hobbit"
Favorite movie: "The Blues Brothers"
Last song you purchased/downloaded? Old Crow Medicine Show - "Volunteer"
One word to describe your work environment: Energetic
Rules to live by in business: Early is on time, on time is late, and late is unacceptable.
What is your dream job? Park Ranger