Professional Profile: Laura Jackson 2018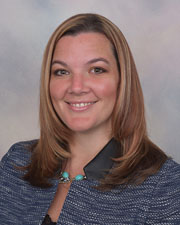 Laura Jackson - 2018
Name: Laura Jackson - 2018
Title: Managing Director
Company: FTI Consulting
Location: 750 3rd Avenue, New York, NY
Birthplace: Livingston, NJ
Education: Bachelors: Monmouth University and Masters: Fairleigh Dickinson University
First job: Intern at Arthur Andersen
First job in real estate or allied field: Staff accountant at FTI Consulting
What do you do now and what are you planning for the future?: I work with REITs, real estate families and funds on taxes, valuations and real estate consulting. My future plan is to grow my clients and lead them through lucrative real estate transactions.
How do you unwind from a busy day?: Cardio kickboxing at my gym
Favorite book or author: My taste varies but I recently enjoyed The Operator by Robert O'Neill.
Favorite movie: A Few Good Men
Last song/album that you purchased/downloaded?: Everything is Love by Jay-Z/Beyonce
One word to describe your work environment: Fast-paced
Rules to live by in business: Work hard, work smart, take initiative, and advocate for yourself and your team.
If you could invite one person to dinner (living or dead, but not related to you) who would it be and where would you go?: Dinner with Justice Ruth Bader Ginsburg at Howard Stern's house
What is your DREAM job? (something other than your current job): A back-up dancer for Beyonce but I will stay in real estate.