Professional Profile: Julio Braga 2018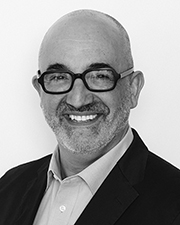 Julio Braga
Name: Julio Braga
Title: Managing Director, Principal
Company: IA Interior Architects
Location: New York, NY
Birthplace: Buenos Aires, Argentina
Education: University of Buenos Aires, M. Arch
What do you do now and what are you planning for the future? I'm co-managing the IA Interior Architects New York office, with focus on project quality. Planning for the future, better projects, happier clients and happier colleagues.
How do you unwind from a busy day? Biking
Favorite book or author: One Hundred Years of Solitude (Gabriel Garcia Marquez)
Favorite movie: The Godfather
Last song you purchased/downloaded? Paint it Black
One word to describe your work environment: Stimulating
Rules to live by in business: Integrity first
What is your dream job? This one (I abandoned the idea of playing soccer professionally at age 15).