Professional Profile: Joel Kivelevitz 2018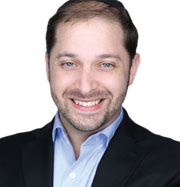 Joel Kivelevitz - 2018
Name: Joel Kivelevitz - 2018
Title: Vice President of Operations
Company: Evergreen Insurance & Risk Management
Location: Monsey, NY
Birthplace: Raised in Far Rockaway, NY
Education: High School and some general college courses
First job: Sales rep for janitorial supply co-worked with schools, healthcare and other large facilities
First job in real estate or allied field: Evergreen Insurance & Risk Management
What do you do now and what are you planning for the future? Vice president of operations, currently managing day to day operations of renewal business and servicing team as well as other aspects of the agencies operations. Plans for future: To keep growing….
How do you unwind from a busy day? Spending time with family and friends, exercise and reading.
Favorite book or author: Stephen Covey
One word to describe your work environment: Positive
Rules to live by in business: Be optimistic, exceed customer expectations and let customers know when you go the extra mile. Always look to grow and learn so you're ready to pivot with changing times.
If you could invite one person to dinner (living or dead, but not related to you) who would it be and where would you go? King David in his Palace