Professional Profile: Joe McNinch 2018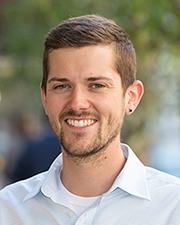 Joe McNinch
Name: Joe McNinch
Title: Associate / Project Designer / BIM Group Leader
Company: SWBR
Location: Rochester, NY
Birthplace: Rochester, NY
Education: BS in Architectural Technology from SUNY Alfred State
First job outside of real estate: Customer service at Wegmans
First job in real estate or allied field: Craftsman at Timber Frames Inc., South Bristol, NY
What do you do now and what are you planning for the future? Currently I'm working on multiple projects specializing in affordable housing solutions for all ages. I plan on continuing to hone my skillset and become increasingly valuable to my clients and firm.
How do you unwind from a busy day in real estate? I like to unwind by spending time wrenching on, and riding motorcycles. Also, by spending time with my wife Maggie, and two dogs Merle & Duke.
Favorite book or author: "With the Old Breed: At Peleliu and Okinawa," by Eugene Sledge
Favorite movie: "Saving Private Ryan"
Last song you downloaded? "Feathered Indians," by Tyler Childers
One word to describe your work environment: Challenging
Rules to live by in business: Work hard, be honest, and don't be afraid to advocate for yourself.
If you could invite one person to dinner (living or dead) who would it be and where would you go? I suppose it would be my Grandpa M. He passed away a little over 10 years ago, and I've had a lot of questions for him since. I imagine we'd just have dinner at the farm.
What is your dream job? Motorcycle reviewer. How could it get any better? Travel the country always riding the newest bikes and getting paid to do it!