Professional Profile: Joan Simari, 2019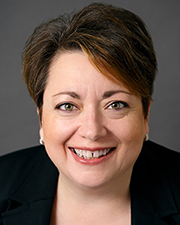 Joan Simari
Name: Joan Simari
Title: Founding Principal
Company: Furniture Advocates
Location: New York, NY
Birthplace: New York, NY
Education: AA in Liberal Arts, Thomas Edison State College
First job: Counter Help at Dunkin Donuts
First job in real estate or allied field: Director of Administration for Graff Pay-Per-View, Inc., where I led facilities and project management in addition to HR and administration.
What do you do now and what are you planning for the future? My current focus is my newest company, Furniture Advocates, which provides management of large scale furniture projects to corporate, not-for-profit, healthcare, and hospitality clients. We're excited because we believe we have a unique process and are one of the very few companies offering a truly brand agnostic advisory. Our plan is to build this into the premier trusted furniture project management firm.
How do you unwind from a busy day? A glass of port, my dog on my lap, chatting with my husband.
Favorite book or author: "The Alchemist" by Paolo Coelho.
Favorite movie: Star Wars
Last song/album that you purchased/downloaded? "Shallow" by Lady Gaga and Bradley Cooper
One word to describe your work environment: Collaborative.
Rules to live by in business: I have a few. First – "What goes around, comes around." It's corny, but true. Second – "You create your own reality." My work ethic has always been old school. I don't believe in luck, I believe in hard work. If you envision your success, and cultivate it, you will succeed. If you allow negative thoughts, nay-sayers, or doubts to creep into your head…well, that's what you will end up with. Third – "If people like you, they'll listen to you, but if they trust you, they'll do business with you." – Zig Ziglar
If you could invite one person to dinner (living or dead, but not related to you) who would it be and where would you go? Mary Magdalene, and any place with a great wine selection
What is your dream job? Architect