Professional Profile: Jenna Heidenberg 2018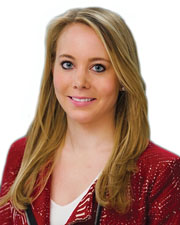 Jenna Heidenberg - 2018
Name: Jenna Heidenberg - 2018
Title: Associate
Company: SCG Retail
Location: 250 West 57th Street, Suite 1801, New York, NY 10107
Birthplace: New York, NY
Education: University of Pennsylvania
First job: Analyst at a private equity firm
What do you do now and what are you planning for the future? I'm a retail broker representing landlords and tenants in the NYC area. My tenants include Starbucks (I'm working on their forthcoming concept stores, Princi Bakery and Reserve, with David Firestein,) as well as emerging design and wellness tenants. The goal for the future is to become the absolute best in the game at what I do, while remaining nimble to changes as retail evolves.
How do you unwind from a busy day? A long walk with my dog Scarlett is a great way to both decompress and stay current on the retail landscape
Favorite book or author: Philip Roth
Favorite movie: "The Graduate"
Last song/album that you purchased/downloaded? Audio book "The Witch Elm"
One word to describe your work environment: Spirited
Rules to live by in business: Clients' needs first. Be honest, authentic, deliberate.
If you could invite one person to dinner (living or dead, but not related to you) who would it be and where would you go? Sandy Lerner, at I Sodi in the West Village. Lerner co-founded Cisco Systems, founded Urban Decay cosmetics and PetLink (a microchipping database for lost pets.) She also runs her own humane and sustainable organic farm. I admire people who are unafraid of hard work, and who turn obstacles into opportunities.
What is your DREAM job? (something other than your current job) An architect or urban planner so that I could help shape how the built environment looks, feels, and functions.