Professional Profile: Jeffrey Levine 2017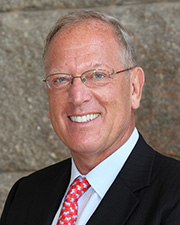 Jeffrey Levine
Name: Jeffrey Levine
Title: Chairman  
Company: Douglaston Development 
Location: Douglaston, Queens and Midtown Manhattan    
Birthplace: Brooklyn, NY 
Family: Wife: Randi Levine, son: Benjamin Levine, daughters: Jessica Sherman and Dara Levine
College: City University of New York's City College School of Architecture
First job unrelated to your current field: Delivered meat for kosher butcher
First job in current field: Laborer for N&L Concrete
What your firm does now and its plans for the future? Douglaston has a strong footprint in NYC and the boroughs. We are working on affordable housing in the Bronx and Staten Island as well as finishing up our final residential tower along the Williamsburg waterfront. The latest property coming online at the waterfront is a 554-unit building called LEVEL that started leasing in July. We are planning an 80/20 residential rental tower in West Chelsea. Douglaston is also working on hospitality and mixed use ventures in Seattle and London as well as an independent and assisted senior living project in Mesa, AZ.
Hobbies: Tennis and hiking
Favorite novel: "Fountainhead" by Ayn Rand; "The Fifties" by David Halberstam
Favorite film: "Blazing Saddles" and "Mutiny in the Bounty"
Keys to success: High threshold for aggravation, and a Swiss army knife
Person(s) you most admire (outside of family): Ronald Reagan, Michael Bloomberg and Scarlett Johansson
If you had to choose a different profession, what would it be? I can't imagine!