Professional Profile: Jason Vacker 2016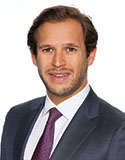 Jason Vacker - 2016
Name: Jason Vacker - 2016
Title: Chief Operating Officer
Company: Meringoff Properties, Inc.
Location: 30 West 26th Street, New York, NY
Birthplace: Baldwin, NY
Education: University of Wisconsin, finance major
First job outside of real estate: I started working in real estate immediately after graduating from college. While in college I interned at an accounting firm.
First job in real estate or allied field: Office leasing broker at Newmark
What do you do now and what are you planning for the future? I oversee several departments including leasing, property management, and construction. I love working on deals - leasing, financing, sales, etc. Every day is different, exciting and interesting. I love my job; it is extremely intellectually fulfilling.
How do you unwind from a busy day in real estate? I enjoy running and spending time with my wife and son.
Favorite book or author: I think Michael Lewis has the unique talent of being be able to tell stories that convey complex matters in fascinating ways.
Favorite movie: "Godfather II" (or "Star Wars" - part of my childhood I can not deny)
Last song you purchased/downloaded? "Pretty Thing" by Bo Diddly. His music was featured prominently in a movie I recently watched, "The Wolf of Wall Street". I think Martin Scorsese scores movies in really unique and interesting ways.
One word to describe your work environment: Dynamic
Rules to live by in business: Outwork everyone else.
If you could invite one person to dinner (living or dead, but not related to you) who would it be and where would you go? Warren Buffet, anywhere.
What is your DREAM job? (something other than your current job) Owner of NY Giants