Professional Profile: Jamie Bucci 2019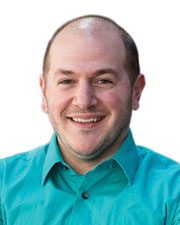 Jamie Bucci
Name: Jamie Bucci
Title: Associate, Project Architect
Company: SWBR Architects
Location: Rochester, NY 
Birthplace: Gates, NY
Education: B.S. in Architectural Engineering from Alfred State College (2007)
First job outside of real estate: While in high school, I worked at the McDonald's in Hilton, NY
First job in real estate or allied field: While in college, I worked as an Architectural Designer at NH Architecture in Greece, NY
What do you do now and what are you planning for the future? I am focused on K-12 education projects currently. In the future, I'd like to incorporate design concepts and materials typically seen on "large scale" higher education type projects, into the K-12 environment.
How do you unwind from a busy day in real estate? I enjoy each evening with my wife (Chassidy) and my daughters (Cambrie & Lena). Every night is something different, and they all keep me busy! I also enjoy photography; so I'm always taking photos and practicing my editing techniques on them!
Favorite book or author: Stephen King
Favorite movie: "Star Wars: The Empire Strikes Back"
Last song you downloaded? "Title and Registration" by Death Cab for Cutie
One word to describe your work environment: Spirited
Rules to live by in business: Always be yourself, and don't be intimidated by the thought of being honest – the foundations of the greatest relationships are built on honesty.
If you could invite one person to dinner (living or dead) who would it be and where would you go? Jim Carrey. I'm undecided on a destination; I guess we'll have to book it and then figure it out from there…
What is your dream job? A Theatrical Set Designer. I've always been intrigued by sets created for movies and musicals. The idea that a team can create an environment that transports the viewer into another world or atmosphere amazes me.