Professional Profile: Jack Britvan 2019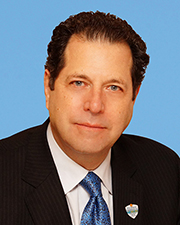 Jack Britvan
Name: Jack Britvan
Title: President
Company: Commercial Realty Services of Long Island, Inc.
Location: 100 Jericho Quadrangle, Jericho, NY 11753, Suite 142
Birthplace: Brooklyn, NY
Education: BA in Economics Brooklyn College
First job: Catering
First job in real estate or allied field: Sutton and Towne in 1977
What do you do now and what are you planning for the future? Continue to broker commercial real estate transactions and started a non-profit to write a curriculum for middle and high schools regarding the Holocaust and other genocides. Most people are unaware that the Holocaust, which involved the killing of 11 million people – 6 million Jews and 5 million non-Jews, is not being taught to American students.
Favorite book or author: My daughter's favorite book growing up, "The Giving Tree" It makes me cry every time.
Favorite movie: "Blazing Saddles"
Last song/album that you purchased/downloaded? "Time to say Goodbye"
One word to describe your work environment: Energetic
Rules to live by in business: Ethics, ethics, ethics
If you could invite one person to dinner (living or dead, but not related to you) who would it be and where would you go? Michael Bloomberg at Legends Yankee Stadium.
What is your dream job? Managing The New York Yankees