Professional Profile: Hillary Jury 2018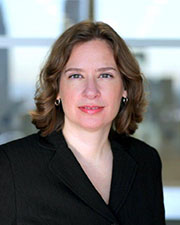 Hillary Jury
Name: Hillary Jury
Title: Partner, Real Estate Transactions Group
Company: Wilk Auslander, LLP
Location: 1515 Broadway, NYC
Birthplace: Fort Wayne, Indiana
Family: In Scranton, Raleigh and New Hampshire
College: Hunter College; Rutgers School of Law - Newark
First job unrelated to your current field: Bartender; South Street Seaport
First job in current field: Non-profit developer; Newark, NJ
What your firm does now and its plans for the future? Wilk Auslander has a large real estate group that offers a full range of expertise in all areas of the real estate industry. We will continue to grow organically as we celebrate our 30th anniversary in 2017.
Hobbies: Volunteering with Win and watching the NY Rangers
Favorite novel: "Love in the Time of Cholera"
Favorite film: "The Royal Tenenbaums"
Keys to success: To work harder than everybody else and fully enjoy what I do.
Person(s) you most admire (outside of family): I recently finished Dan Okrent's book "Great Fortune" and learned a lot about John D. Rockefeller Jr.
If you had to choose a different profession, what would it be? Something with a charitable focus.