Professional Profile: Ed Macey-MacLeod 2018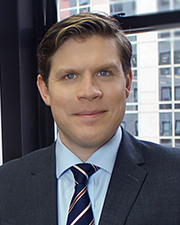 Ed Macey-MacLeod
Name: Ed Macey-MacLeod
Title: Senior Consultant
Company: Shen Milsom & Wilke
Location: New York, NY
Birthplace: Hull, UK
Education: Master's in Engineering
First job outside of real estate: Paperboy
First job in real estate or allied field: Consultant
What do you do now and what are you planning for the future? I design joined-up building services for intelligent buildings. The future will see even more connected devices from companies outside of the traditional controls industry. The spread of consumer IoT devices – and how easily they can be configured – is forcing everyone in construction to up their game. Why can't we let a building occupant modify their work environment as easily as they can at home? It's all about the tenant experience.
How do you unwind from a busy day? Watch New York go about its business from a bench in Central Park.
Favorite book or author: John Le Carré
Favorite movie: "Thomas Crown Affair"
Last song you purchased/downloaded? I have Spotify so (embarrassingly) the last song I actually paid for was "Call Me Maybe" by Carly Rae Jepsen!
One word to describe your work environment: Orderly
Rules to live by in business: Assess everything from the contractor's POV
What is your dream job? Eliminating homelessness by applying technology in the built environment