Professional Profile: Demetrios Plessias 2018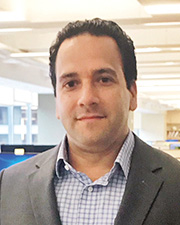 Demetrios Plessias
Name: Demetrios Plessias
Title: Associate Partner
Company: Syska Hennessy Group
Location: New York, NY
Birthplace: Brooklyn, NY
Education: BT Electro-Mechanical Engineering
First job outside of real estate: Florist
What do you do now and what are you planning for the future? I am a member of the Syska Hennessy family. We provide a full range of engineering services for projects of every size for the last 90+ years. The plan for the future is quite clear and that is to continue to provide excellence, innovation and integrity to our long-term relationships as well as to build new long-lasting relationships.
How do you unwind from a busy day? Enjoying the company of friends and family.
Favorite book or author: "The Call of the Wild"
Favorite movie: "The Pursuit of Happiness"
Last song you purchased/downloaded? "The Middle" by Zedd, Maren Morris, Grey
One word to describe your work environment: Challenging
Rules to live by in business: Communicate, communicate, communicate.
What is your dream job? NASCAR driver.