Professional Profile: David Chase 2017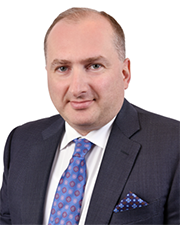 David Chase
Name: David Chase
Title: President & CEO 
Company: ONE Commercial Realty Services (ONE CRS)
Location: 551 Fifth Ave., Suite 620, New York, N.Y. 10176
Birthplace: Tbilisi, Georgia 
Family: Wife – Nadiia Kolosovych, mother and two brothers
College: State University of Georgia
First job unrelated to your current field: JP Morgan Chase
First job in current field: Real estate agent at InTown Realty
What your firm does now and its plans for the future? ONE Commercial Realty Services is a leading provider of real estate services, such as: Investment sales, retail leasing and capital advisory. Our plan is to grow our team of confident professionals to achieve superior results for our clients.
Hobbies: Travel, swimming, skiing, reading, tennis and architecture.
Favorite novel: "The Whistler" by John Grisham
Favorite film: "The Godfather"
Keys to success: Hard work, never give up your dream, be honest!
Person(s) you most admire (outside of family): My mentor and friend: Paul Massey and Larry Silverstein.
If you had to choose a different profession, what would it be? Architect or real estate developer.