Professional Profile: Charles Rampuano 2017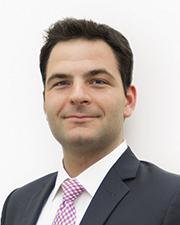 Charles Rapuano
Name: Charles Rapuano
Title: Director
Company: Winick Realty Group  
Location: New York, NY
Birthplace: New York City
Place of birth: New York City
Family: My father is a real estate attorney and investor and my mother is a housewife.
College: University at Albany
First job in current field: Analyst at BLDG Management
What your firm does now and its plans for the future? Retail real estate brokerage focusing on landlord and tenant representation
Hobbies: Working out, reading, traveling, boating
Favorite novel: "To Kill a Mockingbird"
Favorite film: "Inside Man"
Keys to success: The key to success is not necessarily to be the smartest person in the room but to be the hardest working person, willing to go the extra mile for your clients. You can't teach work ethic; it's something that's instilled in you.
Person(s) you most admire (outside of family): Stephen Ross because I've already heard that even though he's the CEO, he's the hardest working person at his company. I admire that kind of work ethic and it's something I strive to be in my future career.
If you had to choose a different profession, what would it be? Sailing instructor in the Caribbean.