Professional Profile: Caitlin Ellis 2017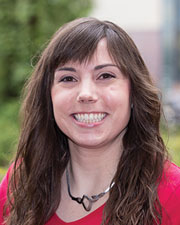 Caitlin Ellis
Name: Caitlin Ellis
Title: Architectural Designer
Company: SWBR
Location: Rochester, NY
Birthplace: Fairport, NY
Education: Bachelor of Architecture, Virginia Tech, 2013
First job outside of real estate: Fastpitch Softball Pitching Instructor
First job in real estate or allied field: Seasonal Intern (Code Enforcement and Development Dept.) at the Town of Perinton
What do you do now and what are you planning for the future? I'm an architectural designer working in the education studio. I'm currently pursuing my architecture license.
How do you unwind from a busy day in real estate? I'm involved in volleyball and kickball leagues outside of work. If I'm in need for a quick burst of happiness, I love to Zumba.
Favorite book or author: "A Song of Ice and Fire" by George R.R. Martin
Favorite movie: This is a difficult question! It's a three way tie between "Top Gun," "The Departed" and the "Star Wars" film series.
Last song you downloaded? I actually bought Aaron Lewis' latest album, Sinner, the day he released it while I was at the Grand Ole Opry. I was able to meet Aaron after the show and now have a signed copy!
One word to describe your work environment: Fun!
Rules to live by in business: Pursue a career or goal that includes a passion of yours and continue to challenge yourself. "The difference between success and failure is not giving up."
If you could invite one person to dinner (living or dead) who would it be and where would you go? George Eastman and I'd let him suggest where we could go. Maybe he would be open to going out for sushi?
What is your dream job? Architect, video game designer or how about both!