Professional Profile: Alexandra Rossland 2019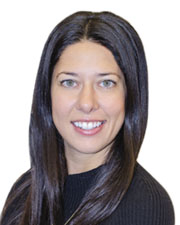 Alexandra Rossland
Name: Alexandra Rossland
Title: Director of Sales
Company: Westbridge Realty Group
Location: Manhattan, NY
Birthplace: Long Island, NY
Education: BA in Psychology from Boston University
First job: My father's assistant
First job in real estate: Receptionist at Weichert Realtors
What do you do now and what are you planning for the future?:Right now I am the director of Sales at Westbridge Realty Group where I am essentially responsible for driving revenue and growing Westbridge in any way I can. That usually involves coaching sales brokers, recruiting new talent, and actively growing my own brokerage pipeline. In the future, I plan to continue bolstering our investment sales division while expanding the company's platform to other business lines.
I want to continue to be known for our excellence and outstanding reputation in the real estate community, and as we begin to offer more services to our clients I am confident we can become one of NYC's predominate full-service firms.
How do you unwind from a busy day?:Seinfeld reruns.
Favorite book or author: "The Kite Runner"
Favorite movie: "Goodfellas"
Last song/album that you purchased/downloaded?:"Living on a thin line" by The Kinks
One word to describe your work environment: Motivating
Rules to live by in business: Reputation is everything. People will be more willing to do business with you if they believe you will treat them fairly.
If you could invite one person to dinner (living or dead, but not related to you) who would it be and where would you go?:Jimmy Iovine. I would let Jimmy choose the restaurant since I'm sure he knows better than me!
I love people with creative minds especially in music. I find it fascinating when people are able to hear a demo and say "That's a Hit!" The era of music Jimmy started his career is my favorite. Even though Bruce Springsteen and Stevie Nicks were before my time, it's all I heard in my house growing up. Jimmy's ability to consistently reinvent himself and adapt to changing times is something I idealize.
What is your DREAM job? (something other than your current job):My dream job (currently) is to be a luxury home developer.
I love the idea of seeing a project from start to finish and being able to call it mine. I say currently because my dreams are always changing.