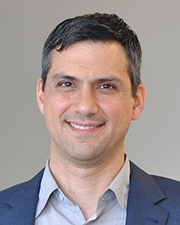 New York, NY Daniel Piselli, AIA, LEED AP, CPHD, has been promoted to director of sustainability at FXCollaborative.
"I look forward to working with the entire firm and our clients on all aspects of sustainability, and in particular, to help push our work and the building industry to a more energy efficient, ecologically aware, and humane future," said Piselli.
As the director of sustainability, Piselli will lead the visioning and implementation of environmentally responsible design strategies on all of the firm's wide-ranging projects—from local to global, and across multiple scales and building typologies.
In addition to project work, he will manage FXCollaborative's in-house sustainability workgroup that researches and disseminates information on advancements in sustainable design, and spearhead sustainability training and education for staff and clients. He succeeds Ilana Judah, AIA, OAQ, LEED AP BD+C, CPHD, who is leaving the firm after ten years to pursue a Master's degree at the University of British Columbia.
"For more than 13 years, Dan has been a dedicated leader at FXCollaborative," said Tim Milam, AIA, LEED AP, Partner–Managing Director. "He is a well-rounded architect who combines an innovative and questioning perspective with a rigorous and thoughtful design process. The work Dan has done during his tenure at FXCollaborative has been invaluable and his deep commitment to sustainability is inspiring. We have complete confidence in his abilities to collaborate with our design teams to establish sustainable goals in all of our work."
He has over 20 years of experience as a project architect, primarily focused on sustainable building design, including educational, cultural, residential, and infrastructure projects. His most recent projects include the Statue of Liberty Museum, which is targeting LEED Gold, and two comprehensive studies on applying the Passive House Standard to drastically reduce energy use in different building types. He is currently working with a major public school system to apply Passive House to new urban schools, and was the lead researcher and co-author for the Feasibility Study to Implement the Passivhaus Standard on Tall Residential Buildings, a 2017 study that was funded by the New York State Energy Research and Development Authority (NYSERDA).
Additionally, he contributed to the Bird-Friendly Building Design Guide, a ground-breaking manual published by the American Bird Conservancy, which raises awareness of bird collisions with glass and provides aesthetically integrated collision reduction solutions. Dan's bird collision reduction research has been implemented on several FXCollaborative projects, including the new Statue of Liberty Museum, the Center for Global Conservation at the Bronx Zoo, the Columbia University School of Nursing, and the renovation of the Javits Center, among others. Dan is a trustee for the Bird Safe Building Foundation (New York), and volunteers as an expert reviewer for LEED Pilot Credit 55 "Bird Collision Deterrence."