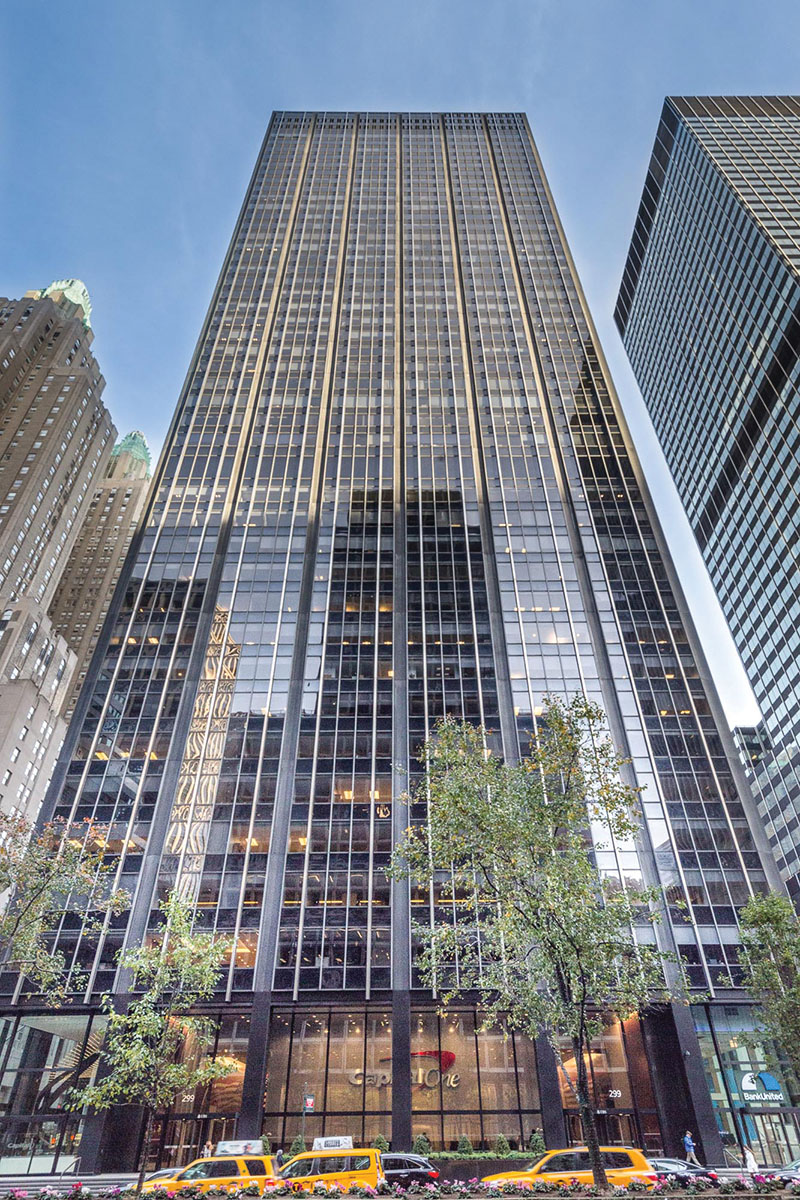 New York, NY Fisher Brothers has signed a new 28,316 s/f lease with Varagon Capital Partners, L.P. at 299 Park Ave., one of the firm's signature Midtown Manhattan office towers.
Varagon, an asset manager that focuses on direct lending to middle market companies, will occupy the entire third floor of the tower in a relocation from its current offices at 488 Madison Avenue. Varagon is expected to occupy its new space by the end of this year.
Fisher Brothers is set to initiate a major capital improvement program at the iconic Plaza District tower in early 2018. The project, which is being designed by David Rockwell and the Rockwell Group, will include a reimagined lobby with a high-end design and more open feel; a transformation of the entrance that will allow natural light to fill the lobby; and an illuminated plaza backed by a new exterior lighting system.
The renovation of 299 Park Ave. is the final piece of Fisher Brothers' $165 million asset renewal program to reimagine and modernize its entire 5.5 million s/f Manhattan office portfolio.
Varagon was represented by Leo Paytas and Conor Denihan of CBRE. Fisher Brothers was represented in-house by Marc Packman and Clark Briffel, as well as by David Falk, Peter Shimkin, Andrew Sachs, Eric Cagner, and Andrew Peretz of Newmark Knight Frank.
"Our capital improvement program at 299 Park Ave. is going much deeper than a standard refresh and completely transforming the aesthetic of the building with a sleek design and modern feel," said Fisher Brothers partner Winston Fisher.
Added Fisher Brothers partner Ken Fisher, "We are pleased to welcome Varagon to the growing roster of blue-chip tenants who view 299 Park Ave. as the ideal location to operate and grow."
Designed by Emery Roth & Sons and built by Fisher Brothers, 299 Park Ave. is a 42-story, 1.2 million s/f office tower which opened in 1967. The building is currently over 90% leased by a range of companies, including Capital One and UBS. Occupying the full block front between 48th and 49th Sts., 299 Park's neighbors include the Waldorf-Astoria and Grand Central Terminal. Originally built over primary tracks serving the New Haven Railroad, it was considered a marvel of modern engineering at the time of its construction. The long-time corporate headquarters for the Fisher Brothers organization, 299 Park Ave. is widely regarded as one of the top Class A office buildings in New York City.