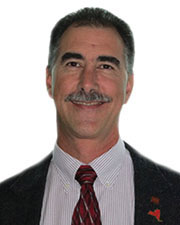 Save money! Register by May 15th for the Annual Conference. The countdown is on for the 18th Annual NYS Commercial Real Estate Conference, June 3-5th, 2019 at the Turning Stone Resort Casino in Verona. This annual event is sponsored by the New York State Commercial Association of Realtors, the Upstate Chapter of CCIM, the Society of Exchange Counselors and the National Council of Exchangors. Chair James Walker, CCIM and the Planning Committee have planned a fantastic program that will be well worth your time.
On Monday, June 3rd, CCIM/NYSCAR are holding two Excel courses, a basics class in the morning, and an advanced class in the afternoon. A separate additional registration fee applies for these excel classes. There will also be a Fair Housing and Agency Review class. Real estate licensees (including commercial) must complete three hours of Fair Housing and one hour of Law of Agency in order to renew their license (two hours of agency are needed if it is the licensee's first renewal).
Also on Monday, SEC will sponsor their annual Networking Event at the Vernon National Shooting Preserve. Attendees interested in attending this fun popular event should contact Paul Hakim, CCIM at paul.hakim@ccim.net.
Tuesday, June 4th will kick-off with round table discussions at breakfast on the topics of RPR, SIOR, CCIM, Generating Transactions at Marketing Meetings and Opportunity Zones. The annual Commercial Investment Marketing Session, moderated by Chuck Sutherland, SEC and Peter West, CCIM will take center stage at 9 a.m. Take this opportunity to market your property to fellow practitioners from across the state, as well as some out of state attendees. This is a great networking session, so don't miss out! Be sure to submit your marketing forms by May 24th!
Lunch will feature updates by the sponsoring organizations and a legislative update by Mike Kelly, director of government affairs, NYSAR.
There will be a Welcome Reception Tuesday evening with Copper City Brewing from Rome, offering a tasting of their beer and cider products. Also, for the first time, join us for "Real Estate Jeopardy," a fun, fast trivia contest to test your knowledge of commercial real estate.
Wednesday, June 5th is Education Day. Attendees have several classes to choose from. Chuck Sutherland, SEC will instruct two courses on the topics of marketing and deal-making, money-making tips. National speaker and trainer Terry Watson, CSP will teach a six-hour course on data privacy/protecting your clients and your business.
During lunch there will be Keynote Panel on the topic of Opportunity Zones with moderator Paul Hakim, CCIM and panel members Peter Karl, III, JD, CPA, MBA of Paravati, Karl, Green & DeBella, LLP; Justin Miller, partner at Harris Beach PLLC, Attorneys at Law; and Amanda Shisler, vice president at Northmarq.
As always, we greatly appreciate our sponsors for supporting the conference. Many thanks go out to:
Diamond Sponsor: Cushman & Wakefield/Pyramid Brokerage;
Platinum Sponsors: Exchange Authority, LLC and SVN;
Gold Sponsors: New York Real Estate Journal and Ten-x Commercial;
Silver Sponsors: Beardsley Architects & Engineers, CIREB, Greater Rochester Assoc. of Realtors, Harris Beach, PLLC, Hudson Valley Economic Development Corp., and Think Dutchess Alliance for Business.
Go to www.nyscar.org for registration information.
Remember, your registration fee covers:
• Marketing session on June 4;
• Education Day on June 5;
• Breakfast and lunch on Tuesday and Wednesday (June 4/5); and
• The NYSCAR Open House and Welcome Reception.
This is a great value! I look forward to welcoming you next month!
Guy Blake, CCIM, is the president of NYSCAR and is an associate real estate broker with Pyramid Brokerage Company, Newburgh, N.Y.