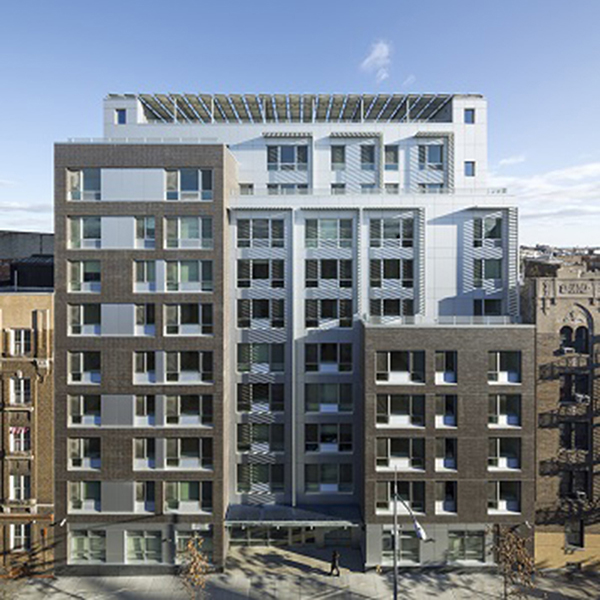 Bronx, NY One of Magnusson Architecture and Planning (MAP)'s award-winning developments, Creston Ave. Residence is featured in a case study in a new publication issued by NYC's Public Design Commission (PDC), according to Fernando Villa AIA, LEED AP BD+C, the MAP principal-in-charge.
"It's always an honor to have one of our most important projects be recognized by the very city agency that is responsible for evaluating design," said Villa. "Of course, designing housing is always the most important goal for us, but being singled out by the PDC provides enormous satisfaction as well."
PDC's booklet, "Designing New York: Quality Affordable Housing" (which was developed along with the New York chapter of the AIA and the Fine Arts Federation of New York), lays out guidelines for well-designed affordable housing, and highlights that MAP's Creston Ave. Residence services homeless families, veterans and chronically homeless adults.
Creston Ave. Residences is a 10-story, 66-unit development with 21 units set aside for chronically homeless adults utilizing Medicaid. The project won 15 awards. It is one of the first buildings funded by the New York State Medicaid Redesign Team Housing Capital Program.
A model of integrated housing, where living space and support services cohabit, the Creston design minimizes the stigma often attached to supportive and affordable buildings, as well as to their residents, said Villa. The integration connects socially vulnerable tenants with sources of support manifest in the building's program and the tenant community.
The project was developed by Volunteers of America – Greater New York, and The Housing Collaborative with Robert Sanborn Development.
Now over a century old, The Public Design Commission was established as the Municipal Art Commission by the NYC Charter in 1898, and was subsequently renamed the Public Design Commission. It reviews permanent works of architecture, landscape architecture and art proposed on or over city-owned property. It has just begun its program to review affordable and supportive housing to the same standards that it has used for other architectural designs; Creston is one of seven projects featured in the publication as a case study evidencing the standards of design excellence. Learn more about the PDC at its web page: www1.nyc.gov/site/designcommission/index.page
Magnusson Architecture and Planning is an interdisciplinary design firm committed to community revitalization through high-performance design and planning. For over 30 years MAP has been recognized as an industry leader in the design of multi-family housing, sustainable community development and urban planning.