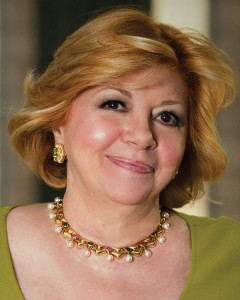 Faith Hope Consolo, Douglas Elliman
Retail is not only surviving…it's thriving! The consumer is king and stores are really stepping up their game in terms of space, location and technology; glorious brand flagships, decadent department stores and beauty galore. Here are some big changes that we are excited about.
On Fifth Ave., Apple is expanding its flagship at the General Motors building on Fifth Ave. from its current 32,000 s/f to over 77,000 s/f. While the store is undergoing the expansion, Apple has temporarily moved into a space in the former FAO Schwarz building. Nike signed a lease at 650 Fifth Ave. for a massive outpost that will span five stories and upwards of 60,000 s/f. At 640 Fifth, next to the new Victoria's Secret flagship, UK-based Dyson is prepping to launch a concept store, offering customers a hands-on experience with its high-tech appliances. Tech is also in the mix at Coach House, Coach's funky, three-level flagship at 685 Fifth Ave.
On 57th St., luxury residential tower 432 Park Ave. is welcoming retail into a commercial condo and an adjacent six-story building that contains Swiss watchmaker Richard Mille's boutique.
On the Upper East Side, Ulta Salon, Cosmetics & Fragrance, the country's largest beauty retailer, leased 12,000 s/f on the ground floor at 184 East 86th St., for its first location in Manhattan.
In Midtown, Nordstrom announced the second Big Apple location at 855 Sixth Ave., scheduled to open in fall 2017, and occupying the first three floors of the newly constructed tower. The location is on the corner of 31st St., two blocks from Herald Sq.
In SoHo, Luana, the renowned brand of elevated contemporary handbags and women's accessories, has leased their first U.S. storefront at 155 Spring St., between West Broadway and Wooster St.
In the Financial District, Dior Beauty offers its first cosmetics-only store, designed to feel like the backstage of a fashion show and housed in the Oculus in the Westfield World Trade Center. Kusmi Tea's flagship store is complete at The Mall at the World Trade Center (Westfield World Trade Center), 7 World Trade Center, 250 Greenwich St. TJX Companies, the parent company of Marshalls and T.J. Maxx, took a 68,400 s/f deal for a new Marshalls department store at 140 West St. on the first floor and two lower levels of the building between Vesey and Barclays Sts.
Saks Fifth Ave. finished its newest store and third NYC location, Saks Downtown Men's. The 16,000 s/f store is located at 250 Vesey St. at the northern end of Brookfield Place. Dedicated to men's divisions with a focus on modern fashion, along with a premier shoe and accessories assortment. The Saks women's store opened at 225 Liberty St. on the south side of Brookfield Place in Sept. 2016 and is going gangbusters. The new men's spot is the epitome of experiential shopping. Bespoke services is important to the Sak's man and this is always at your fingertips. There is a wall dedicated to technology showcasing the latest trends in designer electronics and accessories, next to designer shoes, handbags and sunglasses. Designer, contemporary and ready-to-wear collections are positioned next to apothecary and fragrance brands. The cherry on top is at the store's northern entrance; the posh Fifth Ave. Club for private styling consultations.
Notable news from the shopping sector:
Coach has launched new pop-up shops at Bloomingdale's with the help of Los Angeles artist Gary Basemen. Pop-ups include custom window displays at the 59th St. New York store to promote the 45-piece Baseman x Coach collection, which bears the artist's signature prints and motifs. See the department store's Manhattan flagship and three additional branches in Beverly Hills, Calif.; Chicago; and San Francisco.
Aerie, the Pittsburgh-based intimacy retailer owned by American Eagle, is celebrating five consecutive quarters of comparable sales growth in excess of 20%. The brand is planning to explode onto the scene by launching 50 new stores over the next year, paying particular mind to the swimwear market. Look to the beach to be on trend! Happy Shopping!
Faith Hope Consolo is the chairman of Douglas Elliman's retail leasing, marketing and sales division, New York, N.Y.