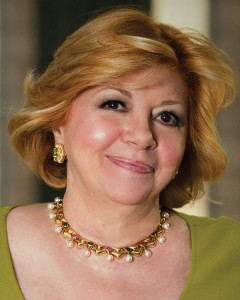 Riding the retail roller coaster this year, thankfully, some good news is coming out of the federal reserve. Consumer confidence in the Middle Atlantic states – New York, New Jersey and Pennsylvania – climbed again in March, reaching a 16-year high. The Fed said the U.S. economy kept expanding, with tight labor markets and many businesses reporting rising wages and was quite optimistic about business conditions around the nation.
Retailers reported that sales were steady and on the moderate upswing, tourism and travel activity generally picked up, housing markets have improved and commercial real estate markets have been steady. Overall, economic activity increased in each of the twelve Federal Reserve Districts between mid-February and the end of March, with the pace of expansion between modest and moderate. All great news, as slow and steady wins the race!
Manhattan Retail News
On Fifth Ave., Lord & Taylor has debuted the Dress Address at its flagship in Manhattan, 424 Fifth Ave., boasting the city's largest dress selection. The newly relocated Sephora 580 Fifth Ave. at 47th St. recently celebrated its opening and wow!
On Madison Ave., Elie Saab's breathtaking boutique is open for business at 860 Madison Ave. Robert Clergerie Paris is moving from 19 E 62nd St., between Madison & Fifth Avs., to their new flagship store at 901 Madison Ave.
On the Upper East Side, Michael Boris will be expanding across the street to 979 Lexington Ave. for a boutique dedicated to his ready to wear line. His 970 Lexington Ave. store will remain exclusively for made to measure.
On the Upper West Side, French Furniture Store Roche Bobois signed on at 2040 Broadway, the corner of West 70th St.
In Herald Sq., Target has opened a mega store at 112 West 34th St., opening in October at the 26-story building between Broadway and Seventh Ave., across from Macy's, joining Sephora and Foot Locker at the building. That Sephora recently moved from a few doors down, offering its latest retail concept Beauty T.I.P. Workshop, a massive technology temple to all things beauty at 112 West 34th St. between 6th and 7th Ave.
In SoHo, European streetwear brand Carhartt Work in Progress (WIP) has relocated to a larger space. Five years after opening its first US store on Crosby St., they are going one block east to 284 Lafayette St.
In Hudson Sq., Bed Bath & Beyond and its design subsidiary, One Kings Lane, have signed on Hudson St.. BB&B to number 250 and One Kings Ln. to number 315.
In Chelsea, a Japanese Art Museum and four art galleries are opening on West 21st St. as part of a developer's plan to transform their condo building into an "international arts hub." The Sato Sakura Museum will be on the ground floor of 500 W. 21st St. at 10th Ave. and YSP Gallery will have a space that exhibits ceramics created by South Korean artist Young Sook Park.
In the Flatiron District, Canadian WANT Apothecary now at The NoMad Hotel, 1170 Broadway at 28th St., the first U.S. retail concept from brothers Byron and Dexter Peart, the founders of Montreal's WANT Les Essentiels. Women's yogawear Alo Yoga recently announced that they signed for a new flagship store at 164 Fifth Ave. William-Sonoma's Rejuvenation fine lighting emporium debuted at 3 W. 20th St., steps off Fifth Ave..
In the West Village, Enfold has opened at 411 Bleecker St. which was previously James Perse who moved to 368 Bleecker St. ATM Collection by Anthony Thomas Melillo has recently opened at 405 Bleecker St. next to Marc Jacobs. Cynthia Rowley is opening up at 392 Bleecker St. they are currently located at 376 Bleecker St.. UMA by Raquel Davidowicz has taken a part of the old RLL by Ralph Lauren space at 381 Bleecker St.. Sunni Spencer has opened a pop up shop at 371 Bleecker St. which was previously Baccarat.
Happy Shopping!
Faith Hope Consolo is the chairman of Douglas Elliman's retail leasing, marketing and sales division, New York, N.Y.