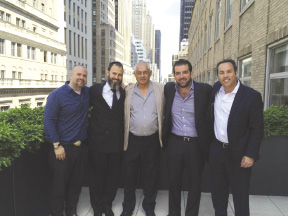 Shown (from left) are: Ran Korolik of Victor Homes, Darin Raiken of KRE; Moshe Shuster of Victor Homes; Kushner; and Oelsner.
Jonathan Kushner of the Kushner Real Estate Group (KRE) and Ironstate Development Company have completed the sale of their development site on lower Fifth Ave. at the corner of 30th St. The 132,000 buildable s/f site was sold to Victor Homes for $99 million, setting a record for price per buildable s/f in the Madison Sq. Park neighborhood.
KRE purchased three adjacent buildings at the corner of Fifth Ave. and 30th St. and spent the last few years acquiring air rights to grow the size of the buildable area. KRE had commissioned Hollwich Kushner (HWKN) to design a condo building, however KRE and Ironstate opted to sell the site because the prices were too attractive. "Victor Homes built a beautiful building just a few blocks south at 241 Fifth Ave. and simply put - we felt comfortable making a deal with them and they offered us a price we couldn't refuse," said Kushner.
Yoav Oelsner and Glenn Tolchin of JLL brokered the deal. KRE and Ironstate have partnered on several development projects, including the launch of 18 Park, a 422-unit rental building in downtown Jersey City.
The partnership also developed 225 Grand, a 348-unit rental building, and is in the planning stages for 235 Grand, a 45-story, 670-unit rental building, both in Jersey City. Other KRE projects currently under construction are the 1.1 million s/f Hudson Lights in Fort Lee, NJ; the 640,000 s/f tower that's Phase 1 of Journal Squared in Jersey City; and the 837-unit Madison Farms with 140,000 s/f of retail in Bethlehem, Pa.