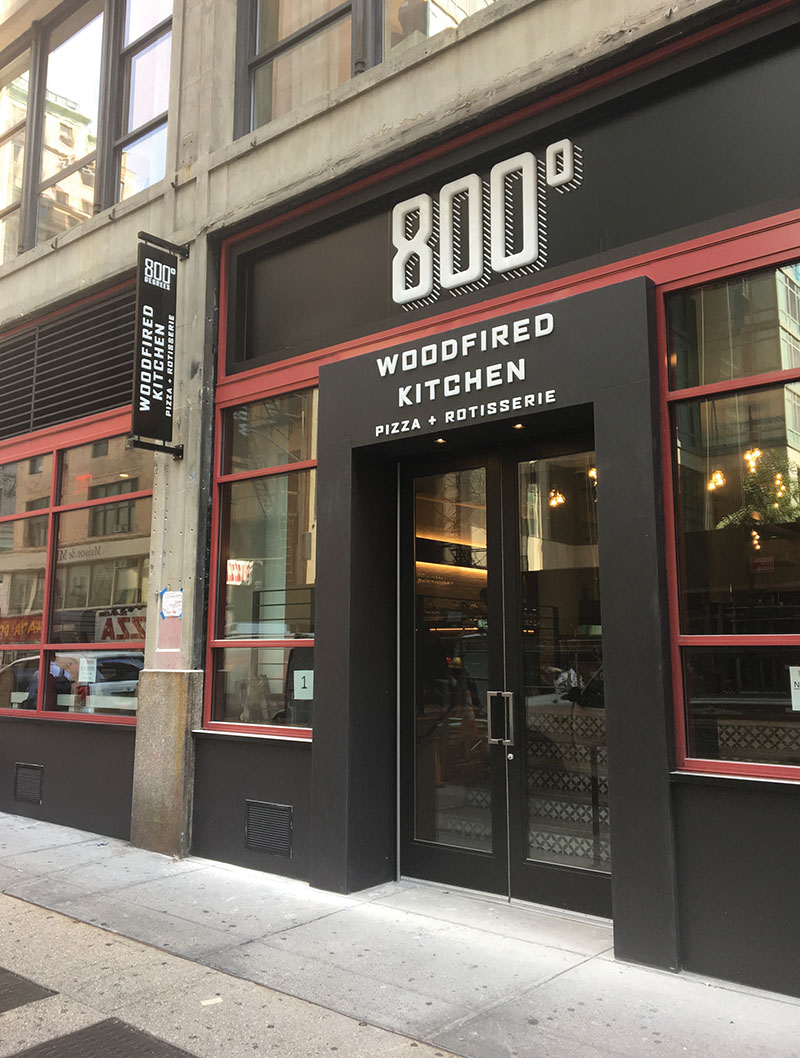 Manhattan, NY Koeppel Rosen has secured a new restaurant backed by basketball stars Dwyane Wade and Udonis Haslem at One East 33rd St. in the 34th St. business district, near the Empire State Building.
"We are thrilled to welcome 800° to One East 33rd St.," said David Koeppel, a principal of Koeppel Rosen LLC, the leasing and managing agent for the Rosen family owned building.
The restaurateurs signed a 15-year lease; the asking rent for the space was $125 per s/f, which includes 1,200 s/f of lower level storage space and offers 35 ft. of frontage on East 33rd St. The restaurant partnership was represented by Louis Joachim, a broker with Fla.-based Dover Real Estate.
"This is an ideal first New York City location for the restaurant, which will benefit from the bustling neighborhood traffic that brings in 100,000 office workers every day and is a magnet for tourists from around the world," said Koeppel.
800° Woodfired Kitchen, a fast-casual restaurant featuring woodfire stone hearth ovens, spans 5,291 s/ft on street level with the ability to seat 84 diners. The restaurant's signature ovens use oak, mesquite and fruitwood to bake at temperatures as high as 800° fahrenheit. Its menu specialties include Neapolitan-style pizzas, rotisserie chicken, porchetta and roast beef.
Chef Anthony Carron developed the 800° concept and opened the first location in Los Angeles in 2012. With five outposts on the West Coast, Carron brought in Miami Heat stars Wade and Haslem to help push the 800° brand nationally and internationally. The trio tapped New York dining expert Mario Zeniou's M&J Hospitality to launch in New York and open in Aventura, Florida.
"We are excited to bring 800° Woodfired Kitchen to the East Coast and couldn't have asked for a better partner than industry expert Mario Zeniou to take our concept to the vibrant island of Manhattan," said Carron, founder and executive chef of 800° Woodfired Kitchen. "As one of the most important dining capitals of the world, New York City is the birthplace of many innovations and new concepts, and home to a huge population of food enthusiasts. We look forward to introducing our innovative style of woodfired cooking to New Yorkers and ingraining ourselves in the tapestry of the Manhattan dining scene."
Zeniou said, "I truly believe that there is nothing else like this available in the market. Between the superior level of ingredients we use and the wide variety of options available to our guests, I believe that New Yorkers will embrace the concept and support what we stand for. We have plans to open additional locations in Manhattan as well as Brooklyn and Queens."
The 12-story, 127,000 s/f One East 33rd St. is near the Empire State Building, a tourist attraction that draws four million visitors a year. Designed by architects Maynicke & Franke, the property was built in 1913 and serves as home prominent tenants including architecture and engineering firm, Highland Associates and autism advocacy organization, Autism Speaks. Koeppel Rosen recently oversaw a renovation of the building's lobby to provide a more modern and welcoming space with security and 24-hour access.