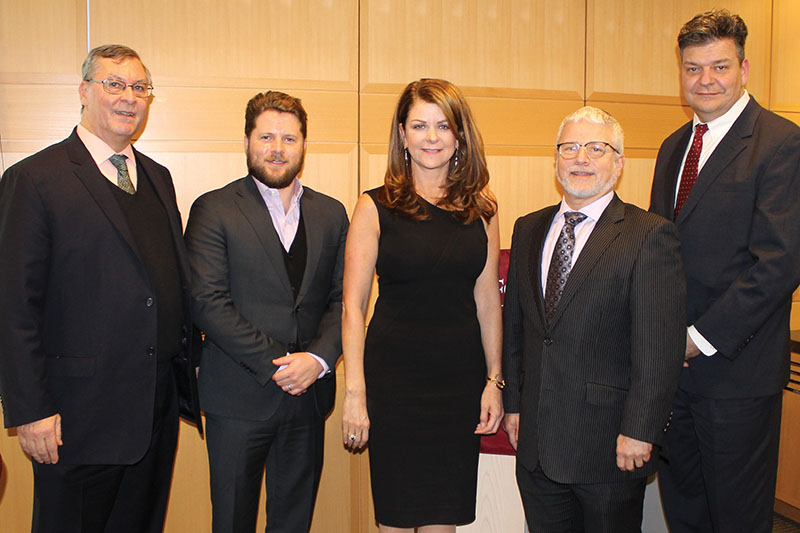 New York, NY On Thursday, November 29, some of real estate's biggest names and rising stars came together for a night of cocktails and conversation when Fordham Real Estate Institute (REI) and MaryAnne Gilmartin, co-founder and CEO of L&L MAG, presented CEO + One. The event, which was held at the University's Lincoln Center campus, featured Gilmartin sharing stories and inviting the crowd to partake in a discussion about being a woman in the workplace, the importance of mentorship and women's role in real estate.
During the event, Gilmartin, who also serves as a special advisor to the REI Executive Advisory Council, stressed her belief in meritocracy – she leads a company where opportunity is given based on ability, not gender. She also called upon two of her former colleagues and one of her mentees, to join the conversation.
"At Fordham Real Estate Institute, we are dedicated to creating a curriculum and programming that represent and include the many voices that make up our industry. We know that we need diversity around the table – that's how the best ideas are formed," said Dr. Anthony Davidson, dean of Fordham's School of Professional and Continuing Studies. "MaryAnne is one of the leading forces in real estate and brought together a truly remarkable room of women and men who are making a difference in the field. We are thrilled to continue to partner with her to illuminate these leading minds and emerging stars, and look forward to continuing this conversation in 2019."
CEO + One was sponsored by First American Title, Co-Communications, Inc. and Simone Development, along with support from an anonymous donor. It was the second event hosted by REI this year that shined a spotlight on real estate's female leaders. In April, Fordham hosted the inaugural event She Builds, featuring a Gilmartin-moderated panel, "The Dealmakers: Lessons Learned on the Front Line from Iconic Women in Real Estate." After a successful second event, REI is already planning a third women-focused event for 2019.