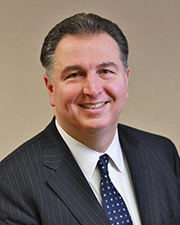 Garden City, NY Noted certified public accountant, financial and management consultant Michael Garibaldi, CPA/ABV/CFF/CGMA has opened the Garibaldi Group, a new public accounting firm.
Providing a full range of traditional as well as non-traditional services, this boutique firm focuses on the closely held businesses that are the backbone of our nation. "As president and CEO of another accounting firm, I realized that the needs of the closely held business owners were not being adequately addressed," Garibaldi said. "Business owners rely on their professionals to provide guidance for sound economic management. To fully service them you need to fully understand their businesses and markets, the trends and changes, challenges and forecasts that drive them. Our team is immersed in our clients' industries, and they swiftly identify what they need to function efficiently and effectively. We work side-by-side with our clients, having first level personal contact."
Garibaldi's original law firm services and closely held business team remains intact with a core group of six professionals. As the firm grows, Garibaldi says his team will ultimately rely on the one-to-one interaction with clients to ensure its success.
"It is who we are and we will always be true to who we are," he said. "We have an impeccable heritage and an excellent foundation on which to build. Playing to your strengths is a key to achieving your long-term goals."
A noted speaker and author, Garibaldi is the leader of a long-standing series of seminars for business owners and law firm Managing Partners. Accredited in Business Valuation and Certified in Financial Forensics by the American Institute of Certified Public Accountants (AICPA), Garibaldi is a Chartered Global Management Accountant and qualifies as an expert witness in valuation matters in NY Supreme Courts. Former President and Board Member of the New York State Society of Certified Public Accountants – Nassau Chapter (NYSSCPA), he has lectured extensively on litigation services and teaches his specialty to other professionals. Named a Top Accountant by the New York Enterprise Report, and Top CEO by the Long Island Business News, Garibaldi was also the recipient of the Reverend Monsignor Thomas J. Hartman Humanitarian Award for Excellence in Accounting.
The Garibaldi Group provides a broad range of services for businesses and individuals in a number of industries. Their many services include accounting, auditing and consulting for small to mid-sized closely held businesses and professional practices, business and professional practice valuations, forensic accounting, fraud engagements and expert witness testimony, tax planning and compliance, private wealth management, business, financial and estate planning. The Firm's experience and position within the legal community is illustrated by the ongoing series of seminars and law firm managing partners' group meetings which gives the Garibaldi Group uncommon insight into the legal industry and the practice issues and concerns of a law firm.