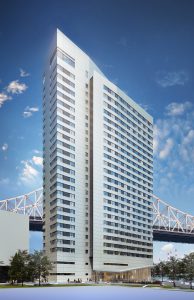 Cornell Tech residential building - New York, NY
New York, NY Electronic Security and Communications Corp. (ESCC), a leading New York-based security and communications design and consulting firm that delivers Integration Beyond Expectation, will be involved in the design and implementation of the security and communications systems at the first high-rise residential building built to Passive House standards – the Cornell Tech residential building. This building will become the beacon of the Cornell Tech campus and a symbol of the school's unwavering commitment to innovative sustainability. Passive House is the building standard that reduces energy consumption while creating a healthier and more comfortable living environment for a fraction of the residents' usual energy costs.  This environmentally friendly building required a unique technology integrator to become part of the creative process and work with the dynamic design team to recommend the right security and communications solutions. ESCC fit the bill perfectly and worked closely with top NYC developers, construction management teams & architects that included Cornell University, Related Companies, Hudson Companies, Monadnock Construction, and Handel Architects.
This new residential building is part of Cornell Tech's new campus that is under construction on Roosevelt Island. The building will consist of 350 residential units for students and faculty members.  The construction initiated in 2015 and is expected to be completed by summer 2017.  From the beginning stages, ESCC worked closely with the creative team to ensure that the right security and communications systems were recommended during the design phase and were implemented successfully.
"We are extremely honored to work with the first class list of developers, construction managers, and architects that helped bring this environmentally sound building to life in a short time span," said Robert Horowitz, president at ESCC. "ESCC has evolved over the years from a systems integrator into a full service design and consulting firm and is proud to have been part of this groundbreaking project."
ESCC's turnkey approach includes design consultants to assess client needs and prepare in-depth proposals, technical design staff to develop detailed drawings, project managers and installation personnel to coordinate and bring the solution to life, management consultants to train end users on system operations, and service consultants to make sure systems render long-term results. The company continues to make a huge impact on the high-rise industry and has taken Integration Beyond Expectation with its focus on developing the right designs and solutions for its customers.