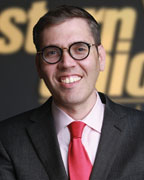 Brooklyn, NY According to Eastern Union, it has completed the first quarter of 2019 having closed a deal portfolio exceeding $1 billion in value. Despite economic conditions, the velocity of Eastern Union's deal pipeline has outpaced that of last year. In CY 2018, the company turned over a record-setting $5 billion in volume.
"While the rest of the market is slowing down, our deal momentum is keeping pace with that of our best-ever deal flow of 2018," said Eastern Union founder and president Ira Zlotowitz. "At the same time, the nature of our transactions has become more intricate and sophisticated. Recognizing the proficiency of our team, borrowers are increasingly tapping Eastern Union to deliver structured financing and bridge loans."
Eastern Union brokers are also closing a larger proportion of structured and bridge financings than last year.
Its executives say the company has attracted a growing reputation for expertise in this relatively complex type of transaction.
Co-founded by Zlotowitz and managing partner Abe Bergman in 2001, Eastern Union operates in conjunction with three primary entities, in addition to its conventional debt unit:
The first entity, the firm's Structured Finance and Bridge Division, helps commercial real estate owners secure funding for construction, bridge, mezzanine, preferred equity and hard money loans.
The second entity is the Healthcare Group, which services owners and operators of skilled nursing and assisted living facilities, hospitals and other health-related properties nationwide.
The third unit is Eastern Equity Advisors, an equity brokerage firm that is an affiliate of Eastern Union. It leverages long-standing relationships with a range of capital providers to help real estate professionals raise equity from institutional and entrepreneurial sources.
The company complements its work by leveraging its exclusive relationship with QTS Services, America's largest independent quotes and term sheet servicer based upon loan volume. QTS Services takes responsibility for the substantial groundwork associated with each transaction, encompassing shopping, producing quotes and term sheets, and packaging the deal.