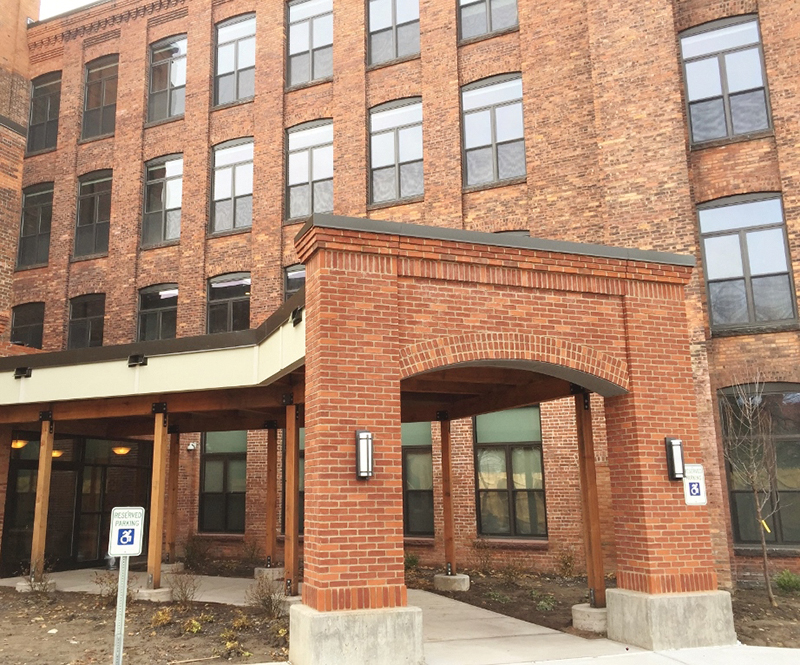 Syracuse, NY Crystal Window & Door Systems recently supplied new aluminum windows for mixed-use residential property Destiny Arms, 800 N. Clinton St., as part of the historic property's renovation and repurposing. Originally a factory and then a storage warehouse, the 110-year old building has undergone major rehabilitation to transform it into trendy new apartments.
Crystal was selected to provide windows for the project as a result of its value engineering and collaboration with the fenestration installation company, Flower City Glass.
"Another window supplier was specified by the developer at first," said Eric Johnstone, principal project manager at Flower City Glass. "However, Crystal's sales and engineering team was able to design a better window system for the project's budget, and together we were awarded the project." Flower City Glass has offices in both Rochester and Syracuse.
"Crystal was very excited to be part of the Destiny Arms project, helping revitalize Syracuse," said Steven Yu, Crystal's regional sales manager. "Our products and engineering expertise are well suited for renovation work, especially for historic properties that need to preserve the design and look of the original period, yet provide modern energy efficiency and functionality."
Crystal supplied 420 Series 2000A commercial aluminum double-hung and Series 2100 fixed picture windows for the building. Most building wall openings were configured with two double-hung windows and a fixed window transom, for an overall combined size of 60" wide by 106" tall. The Series 2000A and Series 2100 aluminum windows feature 3-¼" frame depth dual pane insulated glass units with high performance low-E Solarban 70 coating and Argon gas, a durable AAMA 2604 bronze powder coat paint finish, and casement flush fins to facilitate installation. The windows provide narrow sight lines for a clean sophisticated historic look.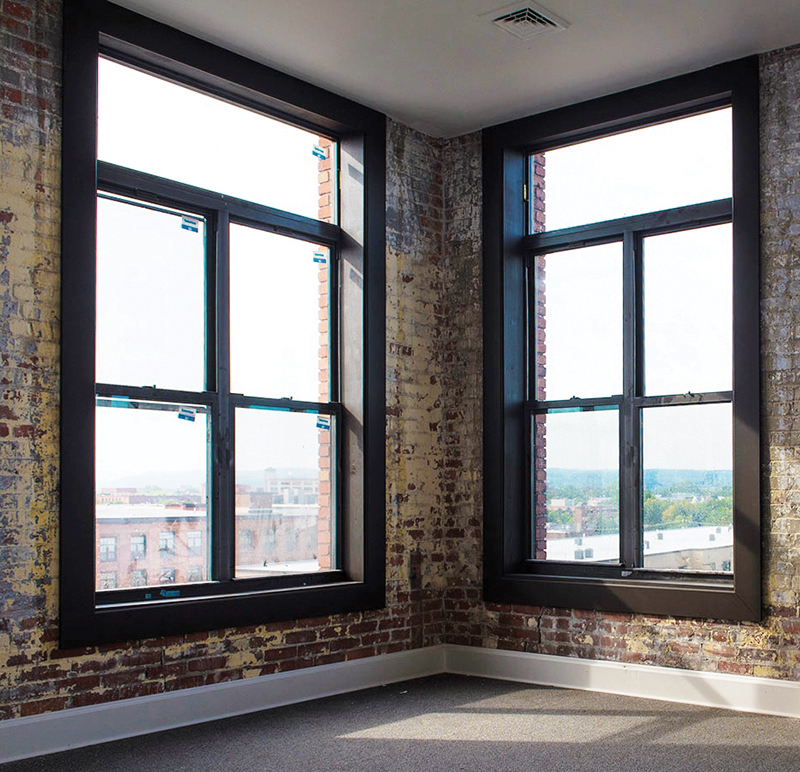 As is typical of buildings over 100 years old, there were many installation challenges to manage on site, primarily because the window opening sizes varied slightly and most openings had an arch top. Another challenge was the fact that once the existing windows were removed, the building's exterior façade brick extended past the interior walls, leaving the exterior brick visible on the inside of each opening. Crystal and Flower City Glass together devised plans to address these challenges, standardize the opening sizes and greatly speed up installation. Wood frames were built into the window rough openings by the project's general contractor Hueber-Breuer Construction of Syracuse, then crews worked to assemble the ganged windows at ground level, hoist the window system to the opening and secure the window system in place to the wood frame using strap anchoring. This method tripled productivity and kept the project right on schedule. Crystal supplied all the window installation accessories for the project to ensure a complete coordinated look.
Destiny Arms is located two blocks from the Inner Harbor on Onondaga Lake. The original structure, built in 1905, was home to the Hotaling-Warner Macaroni Co. Later it was taken over by the Easy Washing Machine Company, and eventually it was used as a furniture warehouse before laying vacant for the past 20 years. Local developer Mark Congel of Granite Development Company acquired the building in 2014, one of several properties the company began redeveloping in the neighborhood.
The newly renovated, universally designed 98,000 s/f four-story residential property offers 62 one- and two-bedroom apartments with some of the historic elements such as exposed brick and wood columns preserved in the apartments.
Many of the Inner Harbor area's historic buildings are undergoing redevelopment and rehabilitation, and new hotels, restaurants, beautiful parks, and a major destination shopping plaza Destiny USA, are part of the resurgence of the community.
Crystal Window & Door Systems is one of the top 35 manufacturers in North America of replacement and new construction vinyl and aluminum window and door products and high-end fenestration systems. Crystal offers a full product line, rapid order-to-delivery times, quality workmanship, innovative product features, outstanding value, and an experienced and knowledgeable staff. Headquartered in New York, the company operates a national network of factories, branches, subsidiaries and affiliates in California, Illinois, Missouri, Ohio, and a new large Pennsylvania facility.