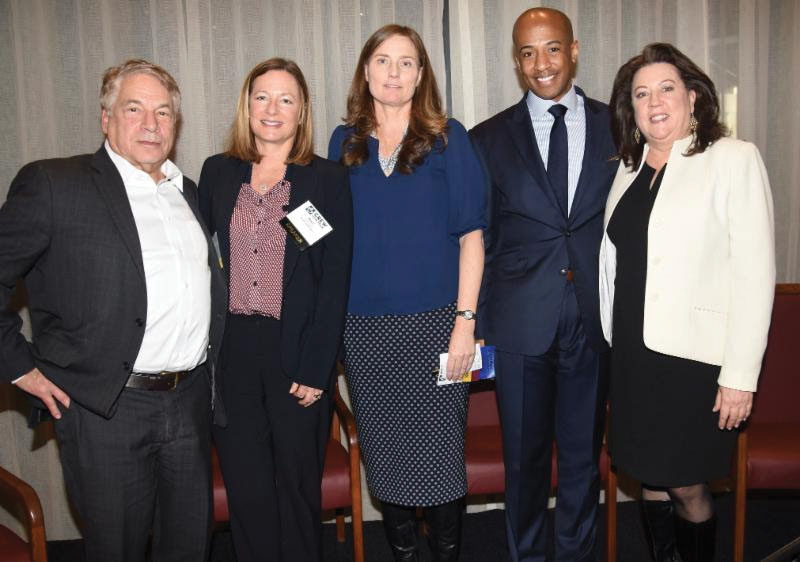 New York, NY On Tuesday, February 5, 2019, CREW (Commercial Real Estate Women) New York held its first luncheon of 2019 with its event, "How Do We Get to OZ? Opportunity Zones Take Off in 2019," with panelists who discussed the basics of the new federal Opportunity Zone Program, how the city is responding and the anticipated reaction of the commercial real estate markets. Moderator Beth Zafonte led the discussion with Michael Bailkin, Allison Berman, and Eric Clement.
The event opened with Marianne Mathieu, CREW New York's 2019 president, welcoming the attendees and introducing the 2018-2019 CREWNY scholarship recipients to the group. She said, "I am honored to serve as CREW New York's president as we continue to work to serve the networking and educational needs of women in commercial real estate."
Beth Zafonte, director of economic development services at Akerman LLP has worked with a wide variety of companies, from real estate developers to Fortune 500 companies, to identify more than $3 billion in economic development incentives over the last 35 years. Zafonte spoke of the transformative nature of the federal Opportunity Zone Program but said that the majority of potential participants are awaiting further guidance from the IRS before investing capital gains into a Qualified Opportunity Zone Fund. We hope to have more information on February 14th when the IRS will hold a public hearing on the regulations.
Michael Bailkin, of counsel to Akerman LLP, is a noted economic development strategist focused on major urban revitalization projects primarily in New York and the mid-Atlantic regions. Bailkin discussed the need for the cities to direct additional incentives to projects in Opportunity Zones to achieve the necessary returns to induce investors to these areas. He also stressed the opportunity and importance for investment in businesses located in zones as the program is not limited to real estate investment.
Allison Berman is the current general counsel and managing director for the EB-5 group at Greystone, a commercial real estate lending, investment, and advisory firm. Berman said that Greystone intends to create small- to medium-sized single asset funds for investment in Opportunity Zones. She has noted that, despite any softening in the major metro condo markets or hints of interest rates rising, there is still strong demand by developers and buyers to invest in multifamily and mixed-use real estate. Greystone is looking at some of these types of projects in Opportunity Zones.
Eric Clement, senior vice president, strategic investment group at the New York City Economic Development Corp. (NYCEDC) brought his experience of investing in business and using the profits to reinvest into the community from his years at Blue Frontier Group. Clement and his team are working on using various investment and tax incentive programs to improve the city's infrastructure, and drive investment to communities in a manner that truly benefits local residents.
CREWNY is the largest organization for women commercial real estate professionals in New York City and offers mentorship, networking, educational, business development and career growth opportunities.